A group of former military officers and Pentagon officials are calling on the Supreme Court to clear the way for nationwide recognition of same-sex marriages, saying the current patchwork of state laws is a threat to national security.
The officials say the assortment of laws on the books now is harming the military because routine changes of duty stations can force same-sex couples to move to states where their marriage is not legally valid.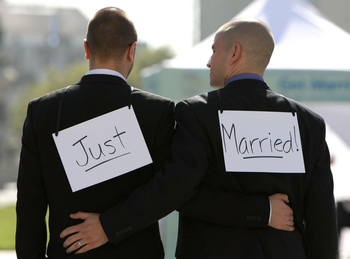 "Those willing to risk their lives for the security of their country should never be forced to risk losing the protections of marriage and the attendant rights of parenthood simply because their service obligations require them to move to states that refuse to recognize their marriages," according to a copy of the amicus curie brief submitted to the Supreme Court.