LOS ANGELES—Brunette beauty Jillian Janson makes her first feature dance appearance this weekend as she headlines the Crazy Horse gentlemen's club in San Francisco. The all-natural sex star launched her career in adult in late 2013, and with an consistent stream of incredible hardcore performances to her resume, has become a favorite with fans and studios alike. Now through March 21, she can be seen up close, live and nude on stage at the Crazy Horse.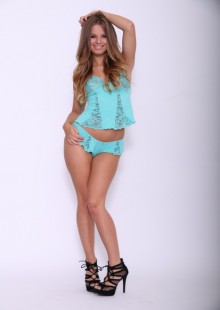 "I'm very excited, this is something that I have been wanting to do since I started in adult entertainment," said Jillian. "I love dancing, I love teasing and getting naughty. This weekend at the Crazy Horse is going to be wild."
After every performance during her feature dance debut gig, Jillian will be on hand to sign autographs, pose for pictures and make available her latest DVDs to fans. The Crazy Horse is located at 980 Market St in San Francisco. More information on the venue can be found on the club's official website. Jillian will be posting pictures and up dates via Twitter.
In other Jillian news, she is currently in the running to win Adult Empire's 4th annual Final Femme challenge. The brunette beauty who has starred in such recent hits as My Sister's First Anal 2 (Digital Sin) and Black & White Vol. 2 (Blacked) is in the first round bracket of contestants; Superstars. Voting in the initial round is open until Monday, March 23, 8am EST. Voting for Jillian can be done on the Adult Empire blog here.
For more Jillian Janson, visit Twitter, Instagram and here.
Jillian Janson is represented by Matrix Models. Visit here or email john@matrixmodels.com.