Pretty vixens with gorgeous asses leave their panties on, while they hook up in PornFidelity's "Panty Fucking" from Kelly Madison Media. The two-disc panty fetish DVD is now shipping from Juicy Entertainment.
"Panty Fucking" showcases four young starlets, as they tease their men with their assets, only to leave their panties on during wild and intense sex shot entirely in 4K Ultra High Definition. Award-winning filmmaker/performer Ryan Madison, who also directs and co-produces, performs in four high-energy sex scenarios opposite adult stars Bree Daniels, Stella Daniels, Tomi Taylor, and Ana Foxxx. Kelly Madison, Ryan's wife and business partner, co-produces and serves as the movie's art director. A bonus sex scene is included.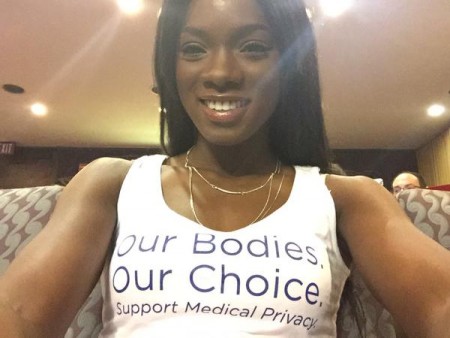 "We are often so quick to want to see beautiful women naked, that we forget lingerie can add an extra, exciting dimension to sex," Kelly Madison said. "It's part of the reason why the atmosphere of this movie seemed even hotter than usual while we were shooting it! Ryan and the girls were really turned on and shared amazing on-camera chemistry."
"Panty Fucking" is now available to order through distributor Juicy Entertainment. It will street July 29.
To view the box cover and trailer for "Panty Fucking," click here.
The movie begins with young Tomi, who is doing her laundry in her panties when Ryan busts in. The sexy atmosphere turns to all-out lust, as he pushes her panties aside and the two hook up in a burst of passion! Young country girl Stella is next when she teases her experienced neighbor Ryan in her tiny skirt and crop top, but Ryan has no time for games, as he pushes himself past her panties and gives her the orgasm and creampie she deserves!
Ebony beauty Ana opens scene three, as she tries on her newly purchased panties to wear for Ryan. But he soon appears and the two share their intense passion with orgasmic results!  Bree follows, joined by Ryan, while hanging her underwear on the clothesline. The young blonde's panty-clad booty is too much for him, as he ravishes her in the backyard to a mind-blowing mutual climax!
"I truly enjoyed working for Ryan and Kelly," said Ana Foxxx. "It was really cool to shoot a video a few years later and see how much I've grown. This had to be the most glamorous scene I've ever done – Kelly took a lot of time to choose everything from my sunglasses to the shoes. I really enjoyed keeping my panties on in this scene, as it's not often that I do. I felt so classy and pretty while fucking like a maniac. All in all, this was one of my favorite scenes ever."
To preview Tomi Taylor's scene, click here. To preview Stella Daniels' scene, click here. To preview Anna Foxx's scene and Bree Daniels' scene, click here and here.
PornFidelity's "Panty Fucking" two-disc set is available in stores on July 29. It was shot in 4K ultra high definition, and includes photo galleries, behind-the-scenes footage, POV Fluffing Cam, a cast list, filmographies, trailers, and more.
Wholesale customers can contact Danny Gorman at Juicy Entertainment at danny@xxxjuicy.com. Retail customers are invited to inquire about PornFidelity's "Panty Fucking" at their online or brick-and-mortar retailer of choice.