LOS ANGELES (July 1, 2015) – Hot teens with tight bodies and an insatiable appetite for sex highlight TeenFidelity's "Perky: Volume 4," from Kelly Madison Media. The two-disc DVD is now shipping through Juicy Entertainment.
Young starlets with gravity-defying chests and perfectly round butts take center stage in "Perky: Volume 4." The movie includes four intense, hardcore scenes shot in 4K Ultra High Definition. With a cast of youthful talent, every scene features sexy scenarios featuring curious teens fulfilling their sexual fantasies with an experienced lover.
Adult starlets Valerie White, Delilah Blue, Maci Winslett, and Harley Dean perform opposite award-winning filmmaker/performer Ryan Madison, who also directs and co-produces. Kelly Madison, Ryan's wife and business partner, co-produces and serves as the movie's art director.
"'Perky' is really about every guy's fantasy of finally meeting and bedding down those flirty young girls at the mall with the perky boobs and killer bodies," Kelly Madison said. "It's a great fantasy to see what they're like one-on-one, so in this movie, we show the true freaks that they really are! And it's awesome!"
"Perky: Volume 4" is now available to order through distributor Juicy Entertainment. It will street on July 8. To view the box cover art and trailer, click here.
The movie begins with pretty Valerie, who loves to put on make-up and go shopping, but when Ryan comes around, hot sex is always on the table as he takes her on a hard ride to Bonetown! Gorgeous Delilah follows, as she happily greets Ryan with her tight wetness after a long absence! The horny couple can't wait as they hook up outside before finishing with mutual orgasms inside!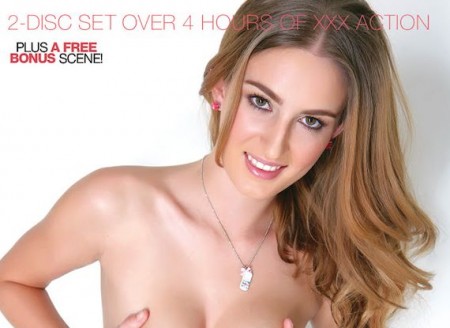 Scene three opens with young Macy in a tiny dress, teasing and flirting with Ryan, but he has little time for chatter when he gives her the hot banging she deserves! Next is teen vixen Harley, who gets hot just thinking about Ryan, so when she visits him the panties are quickly off for the banging and creampie of her life!
To preview White's scene, click here. To preview Blue's scene, click here. To preview Winslett's scene, and Dean's scene, click here and here.
The previous volume of "Perky" caught the attention of XCritc.com reviewer Don Houston. He wrote, "I liked this one a lot based mostly on cast but the chemistry the ladies seemed to have with Ryan, and in one scene with Kelly Madison, was actually quite solid. In short, 'Perky 3' was well worth collecting if you enjoy the cast of curvy cuties as much as I did so give it a look."
TeenFidelity's "Perky: Volume 4" two-disc set is available in stores on June 1. It was shot in 4K ultra high-definition, and includes photo galleries, behind-the-scenes footage, POV Fluffing Cam, a cast list, filmographies, trailers, and more.
Wholesale customers can contact Danny Gorman at Juicy Entertainment at danny@xxxjuicy.com. Retail customers are invited to inquire about TeenFidelity's "Perky: Volume 4" at their online or brick-and-mortar retailer of choice.