January has very much been a coming out for Kissa Sins, with a full-page introduction in the new AVN magazine and the opportunity to attend the Adult Entertainment Expo where she impressed the industry and had porn fans' tongues a-wagging.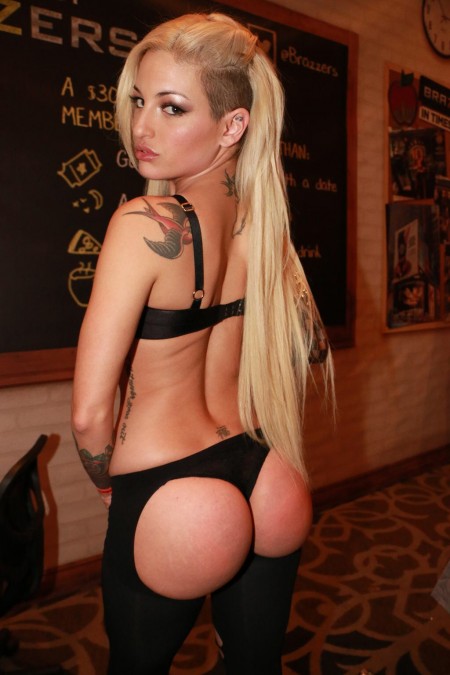 Now she and boyfriend Johnny Sins are debuting their new website, johnnyandkissa.com. Months in the making, it is packed with the couple going at it together and with some beautiful friends like Aidra Fox, Riley Reid and Bella Danger they have brought into the mix. There are tons of videos, photos, merch, a forum and their infamous sex bucket list. This is the first of three sites they are creating, the others being KissaSins.com and JohnnySins.com. They also have  their SinningAtLife.com website.
"It's beautiful," Kissa said. "It has features that no other porn site has and I'm really excited about it. It's extremely interactive and fan-driven, we even have an entire voyeur section and a huge forum.
"We just recorded a full bondage/S&M scene and also a scene with me in a straight jacket and Johnny is the voices in my head and he fucks the shit out of me it's so hot! We're having a blast shooting content for the site. People are going to love it!"
They certainly loved Kissa at AEE and she had the time of her life making the rounds.
"Vegas was absolutely amazing," she said. "I can't believe how nice everyone was and I had so much fun touching all the beautiful boobies and butts! My outfit was so much fun, people loved it and it was really amazing to interact with all the fans. I had one fan named Michelle Shepard draw me this amazing picture of myself and I was beyond flattered. I really didn't know that it was going to be that fun!  It was a bit overwhelming with all the photographs and fans, but I really enjoyed myself."
The wait for her mainstream porn debut is just a week away, with Brazzers set to release the first part of her hotly-anticipated four-part debut on Feb. 4.
Check out the new Kissa and Johnny site at http://johnnyandkissa.com/.
The AVN Fresh Face feature with Kissa can be found at http://business.avn.com/articles/video/Fresh-Face-Kissa-Sins-584569.html.
To book Kissa, email kissasins@live.com. Check out the official Kissa and Johnny Sexual Bucket List and much more at http://sinningatlife.com. Kissa also has hoodies, fitness tanks and hats on www.sinsmerch.com.
She's on Instagram (@coyotelovesyou), Google+ (+kissasinslovesyou), Snapchat (kissasins) and more. For up-to-the-second updates, follow her on Twitter (@kissasins).
For everything Kissa go to http://risingstarpr.com/news/?page_id=7420.