Earlier this year, Olympian and reality television star Bruce Jenner came out to the world as a transgendered woman, in a brave step forward that has been applauded by human rights advocates.  In doing so, Jenner also garnered equal admiration from Moonlite Bunny Ranch owner Dennis Hof, inspiring him to follow suit by championing LGBT rights at one of his legal Nevada brothels in a very unique way.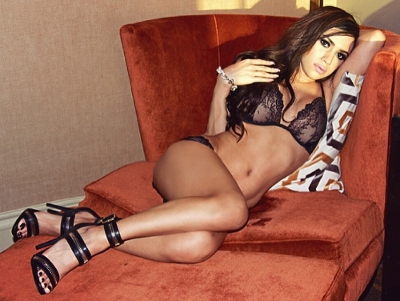 Hof, the star of HBO's "Cathouse" series and author of the best selling autobiography "The Art Of The Pimp" (published by Regan Arts) has announced that he has hired Madison Montag, an award winning XXX transsexual porn star, for an exclusive appearance at his "Love Ranch Vegas" legal brothel, just outside of Las Vegas, Nevada.  She will make history as the first transgendered prostitute licensed by the state of Nevada, and Hof is excited to be facilitating this ground breaking step for human rights equality.
"Madison is one of the most beautiful girls I have ever seen," Hof gushed.  "We get frequent requests for transsexual women with fully working male genitalia, and I don't think you could have the best of both of those worlds any better than you do with this petite young beauty."
The 22 year old Montag stands just 5′ 1″ and weighs only 100 pounds, yet displays 32DD breasts and boasts a set of pouty lips that puts Angelina Jolie to shame.  Her brunette hair and big brown eyes also bear a more than casual resemblance to Kim Kardashian, and that is just one more connection to the Caitlyn Jenner story that has Hof so excited about this new edition to his roster of beautiful women.  "At The Love Ranch Vegas, the level of glamour and sex appeal is so elite that we have girls competing to work there," Hof explains.  Madison Montag fits right in to that prestigious sorority.  That should tell you all you need to know about her natural beauty."
For her part, Montag, who is repped by The V Agency, is excited about the prospect of adventure.  "Anyone who has seen my movies knows how much I love sex.  To be able to be intimate with my fans in a safe and legal way while helping them explore their own sexuality is a dream job for me."
Madison Montag is available by appointment only by contacting madisonmontag@loveranch.net or by calling 775-372-5469.
Dennis Hof and Madison Montag are available for TV/radio/print interviews by contacting pr@bunnyranch.com or 775-721-0276 or 775-720-9090.