Put on your sunglasses and finish up your bubblegum because John Carpenter's science fiction flick, They Live loses all its clothing in WoodRocket.com's, They Live naked.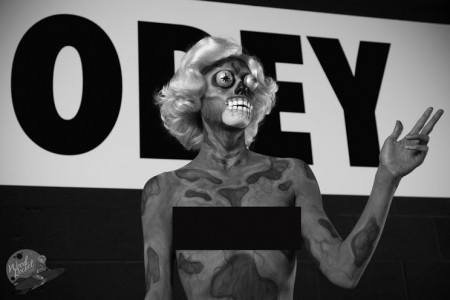 Featuring naked aliens and topless action superstars, They Live naked is an erotic photo parody that is an homage to the humans VS sign-making aliens cult classic. Filled with guns & breasts & special effects, there is no better tribute to the 1980's action genre than They Live naked.
This sexy and weird gallery features models, Vuko & Lily Bergman, and was photographed by Chad Duerksen (The Royal Tenendongs) and styled by Lee Roy Myers & Seth's Beard.
Check out They Live naked for free at http://woodrocket.com/albums/they-live-naked-1 and www.woodrocket.com.
WoodRocket.com is your source for free comedy & adult entertainment. With thousands of high quality adult movies like SpongeKnob SquareNuts 2, Porks & Recreation, and Game of Bones, photo galleries like The Royal Tenendongs, and original web series like "James Deen Loves Food", "Topless Girls Reading Books", and "Stoya Does Everything", WoodRocket.com & its content have been featured on Gawker, Gizmodo, The Hollywood Reporter, Jezebel, Esquire, Bon Appetit, Vice, Fleshbot, and more. WoodRocket even found its Game of Bones and The Knobbit Parodies as trivia questions on the highly acclaimed Comedy Central show, @Midnight.