Fear not College Of New Jersey students, the Condom Ambulance is here for you.
A sophomore at the school has created CondAm, an on-campus condom delivery service that lets precoital co-eds order rubbers to their dorm room by phone, text or on the web, the Signal reports.
Within minutes of placing an order, founder Kyle McCabe will show up at your door with one condom ($3) or 10 ($15) and a waiver to be signed by the buyer, releasing McCabe from any liability if the prophylactic fails to prevent pregnancy and/or disease, he told the college newspaper.
There's no actual ambulance yet, McCabe told HuffPost. But he does have a helmet with a flashing light and a backpack full of Trojans.
McCabe said he's not in it for the money; he created CondAm to promote safe-sex and help out unprepared classmates. No word yet from MTV on what they plan to do in 2032, when the pipeline of potential "Jersey Shore" cast members is vastly depleted.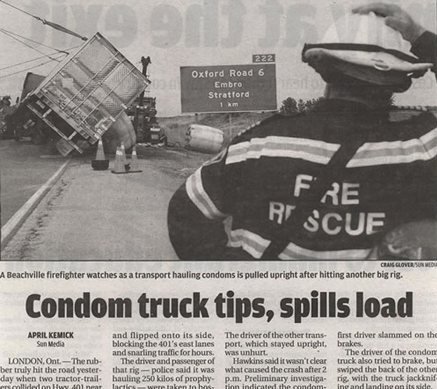 Hours of operation, according to the company's answering service, are Friday to Sunday, 7 p.m. to 3 a.m., a.k.a. prime hook-up hours.
Condom delivery services are nothing new. Dollar Rubber Club, a subscription-based startup, will ship condoms to your home for as little as $1 per month, offering such packages as "The Swordsman" and "The Traveling Salesman." And to take things to the next level — College of New Jersey students: earmuffs! — Brooklyn-based Babeland will send a bike messenger carrying sex toys to your place for $30 plus the cost of the goods.
A brief search online reveals that the term "Condom Ambulance" may have been coined by the Swedes, who dispatched emergency vehicles carrying condoms to in-the-mood callers during a 2004 chlamydia outbreak.