By now I'm sure alot of you have heard about Riley Reynolds, owner of Hussie Models, legal issues. He has in the past even tweeted about being visited by the FBI.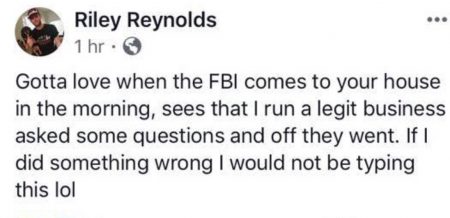 Not sure what became of that visit.
What I am sure of is now law enforcement is starting to interview his girls. I have spoken with 2 girls, one who won't publicly say anything, and the other who will come out when she is free of Riley with her story. Both girls have been approached about about Riley, both were questioned about hooking (Sex Trafficking) and one was asked about ever being in a house with Riley while he was in the presence of an under age girl.
Rumors point to him signing girls or guys right when they turn 18, leading some to believe that there was questionable correspondence while the girl or guy was still a minor.
Law Enforcement talking to Riley is one thing, but talking to the people around him is probably the absolute worst thing that could happen to him outside of going to jail.  The cops/fbi don't stop at just asking questions, no, they will dig into each and every person on that roster, find a few that have legal issues and flip em.  If they can't find a target, they will create one. Not one person on that roster likes Riley enough to go to jail for him. If he is booking privates, they probably already got him, he just doesn't know it..
The real issue is if the Feds are legitimately working a case on him under RICO. That's where people attached to him should worry. Remember that scene in Good Fellas  When Paulie says:
"Gribbs got 20 years just for saying "hello" to some fuck who was sneaking behind his back selling junk"
That's how it works. The best way to flip someone is to put a case on em,  people don't typically walk in off the streets to turn CI, no, they need some motivation, like NOT going to jail..
Would the FEDS go thru that for some level shit head like Riley? Maybe. The politics of porn plays a huge roll as does Riley's big fucking mouth.  The legalities of Porn being shot in Florida haven't been tested, so in theory you can't shoot it there.. But that didn't stop Riley from providing girls for the Hot Girls Wanted Documentary:
Filmmakers Jill Bauer and Ronna Gradus shed light on Florida's amateur porn industry through the experiences of five young women in the business.
Riley, in his quest for some limelight put himself on Law Enforcement's radar,  and if that wasn't enough, he signed them up a second time, Hot Girls Wanted: Turned On
Hey everyone look at me.
In between all of that, his mouth got him kicked out of various cam houses and rentals. Making one neighbors life mission his demise.  Who knows what buttons the mad neighbor has pushed. Riley may be in ass deep with other undesirables and he might not even be the target, he just may be the stepping stone… Either way, he's bad luck and should be avoided at all costs.
If I were doing business with Riley, legit or not, I'd tell him to fuck off, before he gets popped and turns ON YOU.