New Sensations announces the release of its new hotwifing title, "He Came Inside My Hotwife." Co-directed by Eddie Powell and Paul Woodcrest, the four-scene vignette is a hybrid of the creampie and hotwifing genres, starring Nikki Daniels, Abby Lee Brazil, Miko Dai, and cover girl Danica Dillon.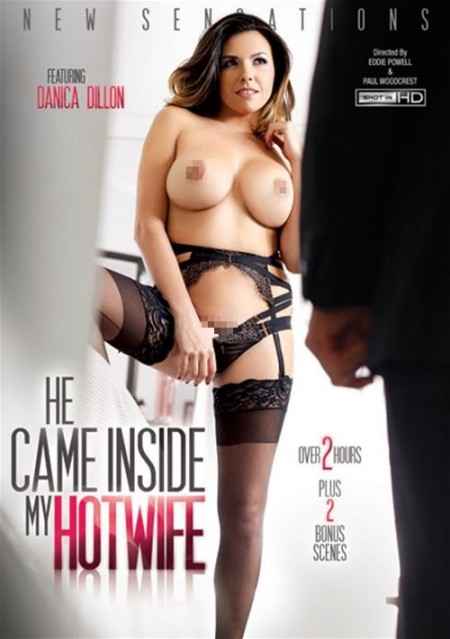 "The hotwifing genre has been very successful for us," New Sensations Media Sales Director Belle Taylor said. "A big reason for that has been the dedication our directors have towards depicting the hotwifing lifestyle in an authentic manner, and doing so in new and exciting ways. 'He Came Inside My Hotwife' explores yet another exciting facet of hotwifing, one that adds more taboo to a titillating scenario."
Hotwifing is the practice of sharing one's wife sexually with other men and deriving pleasure from watching her arousal. Not to be confused with cuckoldry, the act involves no humiliation or displays of dominance. "He Came Inside My Hotwife" is a sex-positive depiction of the hotwifing lifestyle and is inspired by true accounts.
"He Came Inside My Hotwife" finds four beautiful hotwives taking internal pops from lovers chosen by their devoted husbands. Nikki Daniels thrills her hubby by leaving her phone on while her lover comes inside her. Abby Lee Brazil is shocked to discover her spouse has upped the ante in their hotwifing encounters by instructing her boy-toy not to pull out when he comes. Miko Dai enjoys seducing her wide-eyed, young bull — handpicked by her hubby for his virility. Danica Dillon surprises her husband's friend when she reveals herself as a hotwife, taking him deep inside her as requested by her man.
"He Came Inside My Hotwife" has a runtime of 130 minutes and includes an exclusive photo gallery and a candid Behind-the-Scenes featurette. The hotwife lovers are played by Erik Everhard, Toni Ribas, Chad White, and Tommy Gunn.
To view the trailer for "He Came Inside My Hotwife," click here.
About New Sensations / Digital Sin: New Sensations / Digital Sin is a worldwide leader in adult film production, committed to creating and producing high end erotic content in a variety of genres. The studio has received multiple awards and worldwide acclaim for a variety of titles ranging from dialogue-driven features to all-sex releases. Its Romance Series, which includes such popular films as "Second Chances," "Lost and Found," and "The Friend Zone," went on to inspire the creation of The Couples Series, The Erotic Stories Collection, and The Swingers Series. The Couples Series' film "Torn" and The Erotic Stories Collection's "The Submission of Emma Marx" remain two of the studio's most highly decorated films to date, with both national and international award recognition. New Sensations/Digital Sin is also known for bringing feature-quality, filmic style to their vignette series with "The Innocence of Youth" and award-winning "Tabu Tales" being some of its most lauded releases.