VENICE, CA – Hawaii seems like a long way away to mainlanders, but the miracles of flight and the internet should allow us to enjoy uninterrupted coverage of the sexual antics of new starlet Kissa Sins. Fans have been drooling over the thoughts of the luscious blonde being kissed by the tropical sun until she's a sexy shade of bronze ever since she announced she'd be moving to paradise on social media.
On her way out of the continental forty-eight, Kissa and her performer boyfriend Johnny Sins gave fans an unforgettable going-away gift. Cmaeras were on hand and rolling as they threw one last gangbang to commemorate things to cum! Joined by Karmen Karma, Katrina Jade, AJ Applegate and Maddy O'Reilly, the Sins created something truly magical.
"It was absolutely amazing!" Kissa said. "It went perfectly and everyone had so much fun that no one wanted to leave! We ran the cameras the entire time, so it got really intense and messy. It was one of the best days of our entire lives! Everyone had such great chemistry, they all said it was the smoothest orgy they've ever done. Johnny also set his own personal record by fucking 5 chicks, his previous record was 4. AJ Applegate literally dropped a truckload of squirt on my face. It was so fun!"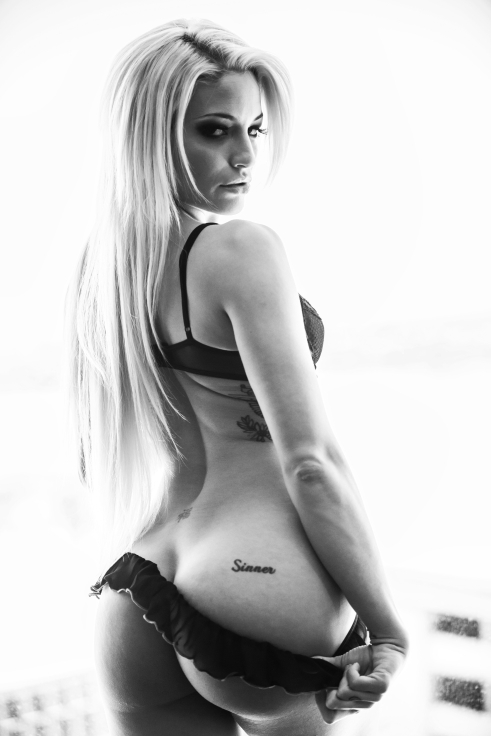 Over the weekend they launched SinsTV, which is going to become the number 1 outlet for keeping up with the pair's sexy antics.
This week they are making the move to Hawaii, which they will also be documenting. They are doing a reality show for their YouTube channel and for the dirty stuff fans can jump into www.JohnnyAndKissa.com. (The gangbang will be on there in two weeks.) They'll also be flying girls to Hawaii to be a part of their reality show.
Kissa will be back in Vegas in June 15-30 to shoot for Brazzers, who holds her exclusive contract. She is also going to the Electric Daisy Carnival, which she will be documenting. She's also looking for girls to hire to do scenes for her site during her stay in Vegas.
Be sure to look for the reality show she's shooting around her and Johnny's upcoming move to Hawaii. A SFW version will be on YouTube at www.SinsTV.com while the XXX original will be on www.Johnnyandkissa.com.
Check out all of Kissa's scenes for Brazzers at http://www.brazzers.com/profile/view/id/2405/kissa-sins/. There is also plenty of hot content on http://johnnyandkissa.com/.
Check out the official Kissa and Johnny Sexual Bucket List and much more at http://sinningatlife.com. Kissa also has hoodies, fitness tanks and hats on www.sinsmerch.com.
She's on Tumblr (www.tumblr.com/kissasins), Instagram (@coyotelovesyou), Google+ (+kissasinslovesyou), Snapchat (kissasins) and more. For up-to-the-second updates, follow her on Twitter (@kissasins).
For everything Kissa go to http://risingstarpr.com/news/?page_id=7420.