Taryn Thomas has done a great job keeping this issue public and should be commended for it. Instead of talking about how condoms are bad for porn she's actually trying to do something…

PHOENIX – When you think of "Porn in the Valley," southern California probably comes to mind. But soon, that could all change – because of the billion dollar porn industry.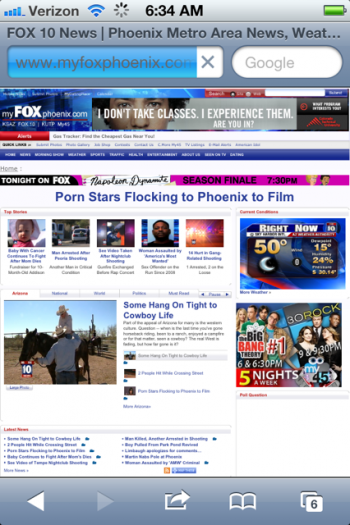 It is seriously considering moving its operations here to our valley.
Sweeping health regulations will require porn performers in California to wear condoms while on location starting on Monday.
The landmark law is a rare attempt to regulate how films are made.
The industry is fighting back, and on Saturday night, they brought that fight to Phoenix, and that might not be all.
Adult movie star and film producer Taryn Thomas signed autographs for fans at the first-ever Adult Film Convention in Phoenix — which happens to coincide with the Fifth Annual Porn Star Ball held here in the valley.
This after a strict, new law in California is set to change the way movies are made there by requiring condom use.
"I wonder what's going to happen for the next 'Fast and the Furious' movie? Will Vin Diesel have to keep it under 65? Will James Bond have to wear tactical gear?" one actress said.
Film maker Michael Whiteacre said he's already seen change.
Producers and actors are packing up and moving to a new valley — one with no restrictions.
Whiteacre said more shooting means more money.
But former porn actress and founder of the Pink Cross Foundation, Shelly Luben, warns of something else.
"What they bring with them is rampant – STDs, prostitution, drug trafficking, let me tell you — they are going to recruit young women in Phoenix," Luben said.
"Wherever work is, of course, I am going to flock to that as well," said actress Amy Brooke.
Brook started making Internet movies in Phoenix in 2008, and like Thomas, is willing to come back if it means freedom of expression.
"Say a construction worker has to wear a hard hat, OK, but the building he's building is still going to look the same when it's done. But if a performer has to wear a condom, it's not going to show up the same way, and it's not going to be the same in the end," Thomas said.