From porn virgin to worldwide sensation, the Lebanese superstar stuns in her very first XXX scenes
Pure Play Media and SCORE Studio are pleased to release on April 9 Mia Khalifa, a showcase title featuring the world famous Lebanese superstar in her very first XXX scenes. From porn virgin, to worldwide sensation, Mia Khalifa has certainly made a stir, and in this exclusive title from SCORE Studio, Mia Khalifa takes us back to the beginnings of this busty beauty's breakout.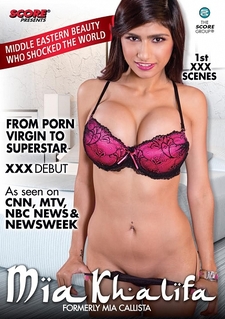 Once upon a time, she was the busty girl who worked at the local hamburger joint. Then SCORE discovered her, and now 21-year-old Mia Khalifa is an international sensation, known for her Lebanese heritage, her love of Florida State football, and, of course, her off-the-charts love for sex.
In Mia Khalifa, you'll see this curvy girl-next-door turned porn star in her first ever XXX scenes, featuring in-depth interviews, deep-throat cock sucking, and taking hard cock in her tight, young pussy… scenes fans around the world have been waiting to see.
"SCORE Studio gives fans what they love – curvy women with massive bra sizes – and this time, it comes in the form of a young, worldwide sensation that's as much girl-next-door as she is nymphomaniac," Pure Play Media Sales Representative Hyland said. "Mia Khalifa streets April 9 from Pure Play Media, so place your pre-orders and follow us on Twitter to make sure you don't miss a thing!"
SCORE Studio is available exclusively in the United States through Pure Play Media.