NEW YORK (March 2, 2015) — Award-winning web cam sensation LittleRedBunny is featured in a CNBC article discussing the dramatic increase of overseas cam models and how it effects models in the U.S. The vintage-style redhead is the most recognizable performer in the $1 billion dollar webcam industry and is the go-to authority from the cam model perspective.
"While some see it as competition, I think there is enough room for models from all countries. We are in different time zones, so we won't be working the same hours, and some models overseas type rather than talk, so there can be a communication gap which can give models like myself an advantage," stated LittleRedBunny in the CNBC article.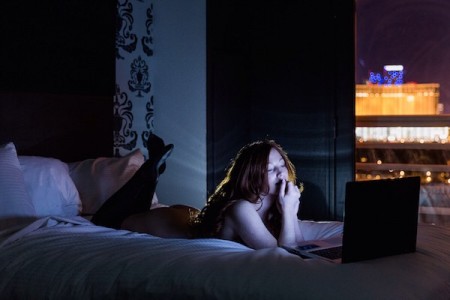 It may be no small coincidence the growth of LittleRedBunny's popularity has coincided with the growth of the adult camming industry. Her prominence among cam models keeps her constantly in the media on such issues as income potential on Craveonline.com, the future of the camming industry, and the global rise of the webcamming and the effects of "outsourcing" models in countries like Romania and Columbia. Not surprisingly, LittleRedBunny has been invited to attend the LaLEXPO and AWSummit in both those countries later this summer. Additionally, LittleRedBunny will be appearing at the March 2015 LiveCamAwards in Barcelona, Spain, where she is nominated for two more awards, further cementing her influence in the industry on an international level.
Stateside, LittleRedBunny continues to receive praise for her unique look, style, and camming success in the latest Adult Industry article on BaDoink.com. Drawing comparisons to current pop culture references like Boardwalk Empire and the Fallout video game series, LittleRedBunny's distinct look continues to garner attention.
After a productive trip to Las Vegas in January for the 2015 AVN Awards, where she received two nominations, LittleRedBunny continues to appear in multiple media outlets where her unique style and contributions to the development of webcamming are always front and center. During interviews with Jezebel.com, 88MilesWest.com and 7Deadlymag.com the focus always turns to her vintage look, intimate fan connections, genuine personality, and strong work ethic, which separate LittleRedBunny from so many others and has translated into multiple awards and nominations.
While in Las Vegas, LittleRedBunny was approached by many fellow cam models, like HarrietSugarCookie, who were thrilled to meet the iconic redhead in person and discuss the industry on a peer-to-peer level. While some cam models may only get a few dozen to several hundred guests in their rooms at a time, it's not uncommon for LittleRedBunny to have several thousand, which is why she is looked up to by so many.
Richard Abowitz of The Daily Beast best described LittleRedBunny's status in the industry in 2014 when he declared her the "Queen of Cam Girls."
LittleRedBunny is currently set to appear at the inaugural Live Cam Awards in Spain on March 8, where she has been named Red Carpet Guest Star. Voting for the awards runs through March 5.LittleRedBunny is nominated for Best Live Cam Female Model, an award similar to those she received in 2013 at the Sex Awards and 2014 at the AVN Awards. She is also eligible for Best Live Cam Model Personal Site.
To help support LittleRedBunny for Best Female Live Cam Model and Best Live Cam Personal Site you can vote here: http://vote.livecamawards.com/login?redirect=/