Source: AOL TV
by Chris Harnick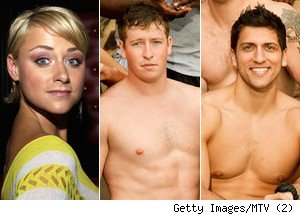 Tonya Cooley, a cast member of 'Real World: Chicago' and many 'Real World/Road Rules' challenges, is suing MTV, Bunim/Murray Productions and reality stars Evan Starkman and Kenneth Santucci, saying the male cast members named in the suit sexually assaulted her.
According to TMZ, Cooley's lawsuit claims Starkman and Santucci sexually abused her with a toothbrush while she was passed out. Warning: details are graphic.
The lawsuit says Starkman and Santucci "took another male participant's toothbrush and rubbed the toothbrush around the plaintiff's genitals, including rubbing her labia and inserting the toothbrush into plaintiff's vagina."
Cooley claims cameras were rolling during the incident. The reality star said producers knew about the rape, replaced the toothbrush in question and never told her what had happened. The suit also alleges that female cast members were often stripped out of their bathing suits and producers encouraged the male cast members to "inappropriately touch female cast members' bodies, including in intimate areas." The reality star said she and other cast members reported the sexual abuse, but the show turned a blind eye.
TMZ reports Cooley is suing for unspecified damages.
UPDATE: Bunim/Murray Productions has issued a statement: "After a thorough investigation, we have found Tonya Cooley's claims to be completely baseless."