Exclusive Interview With Best New Starlet Nominee Offers Ink Insight
VENICE, CA – Romi Rain has been named the August Elegant Angel Girl of the Month and they are celebrating by making available an exclusive, 50-minute-long scene with James Deen on ElegantAngel.com. Toni Ribas was the director.
This is the latest honor for the popular performer who is nominated for Best New Starlet in the 2014 NightMoves Awards.
Her official website, www.RomiRain.com, also has a new update: a new set with photographer Marcos Rivera.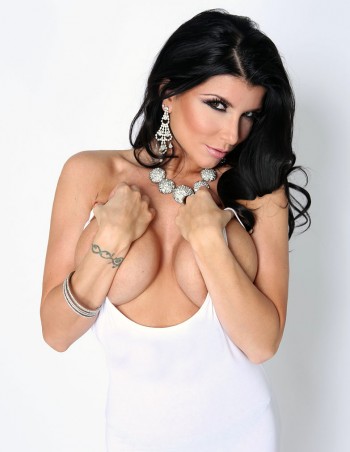 Tattoo fans and/or fans of Romi will want to check out the Visual Vocabulary interview with Romi that takes viewers on a tour of her many tattoos and reveals what's to come and how long it will take. Did you know that all her tattoos have been done by women? You'll learn about that and more! Check out the interview.
Romi's 2014 NightMoves Awards nominations
Best New Starlet
Best Boobs
Best Ink
Best Feature Production: Hot Chicks Big Fangs (Digital Playground)
Best Cougar/MILF Release: MILF Revolution 2 (Lisa Ann Productions); Prime MILF (Hard X)
Vote for Romi at http://nightmovesonline.com/voting/index.php?sid=82189&lang=en.
Check www.RomiRain.com for new updates every Friday.
Romi is on Twitter (@Romi_Rain), Instagram (http://instagram.com/romirain) and Tumblr (http://romirain.tumblr.com). Her official site, www.RomiRain.com, is updated every Friday.
Book Romi through OC Modeling (
www.OCModeling.com
, Twitter @OCModeling). For feature dancing gigs contact A List Dave at Dave@AListFeatures.com. For more information on Romi Rain go to http://risingstarpr.com/news/?
page_id=5561. For up-to-the-second updates, follow her on Twitter (
@Romi_Rain
)