In honor of Mother's Day being today, Sunday May 10th, I put together a racy "Got MILF" holiday special for Vivid Radio featuring some of the adult industry's top MILF and GILF performers!
Tune into Vivid Radio SiriusXM 791 throughout the day and night Sunday to hear legendary MILF tales from sex superstars Julia Ann, Mika Tan, Sarah Vandella, Melissa Monet, Karen Summer and Tara Holiday. You can also download the show directly from VividRadio.com.
This rowdy and eclectic group of female Porn Stars have 108 years of professional sex experience between them. The one thing I learned from this show; our libido certainly doesn't slow down with age. These gals shared their erotic personal stories and on-set shenanigans, plus they revealed the best, and worst advice their moms gave them growing up.
Then it hit me, I had my next column sitting right in front of me. Who better than these wise women to help me dispense advice to all the mom's out there, on how to access their "inner MILF" on Mother's Day.
For those of you who have never heard of this acronym, (and trust me, you exist) it stands for, "Mom's I'd Like to Fuck." So, to be clear, a MILF is considered an extremely desirable and sexually confident woman. The standard is determined by a combination of age (usually over 30), and overall attitude.
Plus, MILFS may – or may not even have kids. A woman can simply exude a maternal quality or motherly influence, she can also be a step-mom, or an aunt, or a fur parent to an animal and be deemed a MILF. MILF is a broad term used to describe a wide variety of women.
We also debated the difference between MILFS and "Cougars" on the show, since most people confuse the two labels. In the adult industry, you can choose the genre of porn that you perform in. Some girls want to be billed as a MILF, and others prefer the title of Cougar.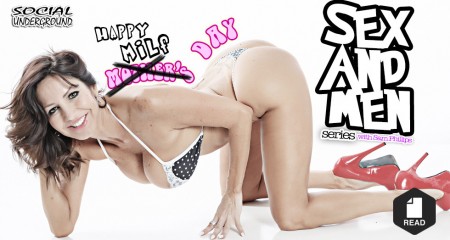 Tara Holiday called in to the MILF special. She is a famous Chilean Cougar Porn Star, and collectively we determined – with the help of the #1 MILF on every aficionado's list, Julia Ann – that it's a Predator vs. Prey thing. Cougars go after men; men pursue MILF's. One woman is aggressive, and the other is more passive.
Whichever category your wife, girlfriend or (God forbid) your mother falls into, Mother's Day is her special day to be selfish and celebrate. If you are a lady reading this article, maybe your hubby or boyfriend passed it along to you, or you accidentally came across it, or someone you know shared it on your social media.
Below is some sage advice from six of my MILF and GILF Porn Star friends on how you can "MILF-out" on Mother's Day.
Janine Lindemulder – Legendary Adult Film Star, Penthouse Pet of the Year Runner Up 1990, former Vivid Video Contract Girl and Exotic Dancer with Blondage, current Grandma
Keep Reading