AS ENGLAND hope to keep the World Cup dream alive in their clash against Costa Rica on Thursday, the organisation running sexual health services in Worcestershire has released its latest poster promoting awareness of sexually transmitted infections (STIs).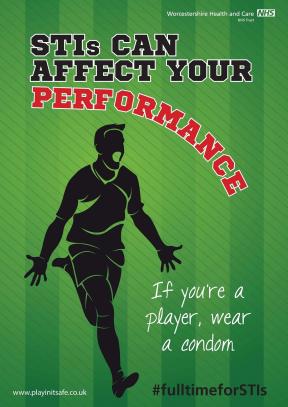 Worcestershire Health and Care NHS Trust is running a campaign during the tournament encouraging people to take precautions during sex to avoid the risk of disease.
The second football-themed poster features the slogan 'STIs can affect your performance. If you're a player, wear a condom'.
Almost half a million people in England along were diagnosed with an STI – which can affect men's ability to perform in the bedroom and are often transmitted during unprotected sex – in 2013, with under-25s most at risk.
Source