CYBERSPACE – Twitter-based sex chat program Sex Talk Tuesday (#SexTalkTuesday) announced today that it is welcoming award winning writer Joan Price as a special guest moderator for its upcoming show on Tuesday, March 18.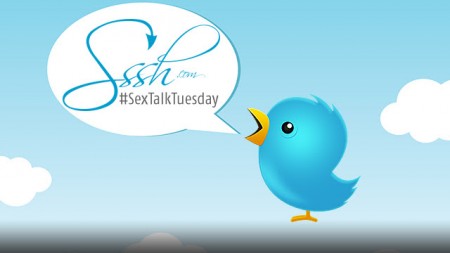 "Having Joan be a guest moderator for Sex Talk Tuesday adds a wonderful new dimension to the many aspects of sexuality the we explore every month.  Sex and aging is such a hot topic, and we are thrilled that we will be able to bring our members and guests the best of the best to answer all their questions. This is going to be a wonderful show" says Angie Rowntree, publisher of Sssh.comJoan Price,
www.joanprice.com
, calls herself an advocate for ageless sexuality.  Formerly a health and fitness writer, she switched topics in 2005 to senior sex with her spicy memoir,
Better Than I Ever Expected: Straight Talk about Sex After Sixty
, to celebrate the joys of older-age sexuality. Questions from Boomers and seniors led to her next book in 2011:
Naked at Our Age: Talking Out Loud about Senior Sex
, a compilation of 130 reader stories, advice from 45 experts, and Joan's candid commentary.
Naked at Our Age
won Outstanding Self-Help Book 2012 from the American Society of Journalists and Authors  and 2012 Book Award from the American Association of Sexuality Educators, Counselors, and Therapists.  In 2013,
Ageless Erotica
was published: a steamy senior sex anthology which Joan conceived and edited. Right now Joan is writing
The Ultimate Guide to Sex after Fifty
, to be published by Cleis Press in December 2014.  Until then, you can visit Joan's zesty, award-winning blog about sex and aging, www.NakedatOurAge.com, where Joan continues to talk out loud about aging and sex, partnered or solo.
A fun and provocative Twitter-based chat held every 1st and 3rd Tuesday of each month from 4pm to 5pm Eastern Standard Time, #SexTalkTuesday is hosted and coordinated by Sssh.com, the web's premier destination for erotica made by and for women.
Each session, a guest moderator asks thought-provoking questions to a large and active group of participants, who send hundreds of tweets during each round of #SexTalkTuesday. The result is a lively and entertaining discussion that invites participants to be open and candid with their thoughts and opinions on sex, life, love and the humor of it all, in a way that fosters a supportive and compassionate environment for the conversation.
To participate in Sex Talk Tuesday, go to twitter.com and use the #SexTalkTuesday hashtag. For more information, or to inquire about serving as a guest moderator, contact Angie Rowntree at editor@sssh.com.
For more info, please contact Brian S. Gross, BSG PR, (818) 340-4422. 
Brian@bsgpr.com