When it comes to basking in the XXX spotlight and getting his name dropped in popular industry publications, AVN Hall of Fame director Mike Quasar often slides just under the radar. With his self-depreciating, down-to-earth sense of humor, an indomitable work ethic, and a talent for all things prurient, the erstwhile Canuck has managed to carve out a comfortable spot for himself in the often unfriendly landscape of modern day commercial pornography as the "go to" director when it comes to creating hot porn on time and under budget.
While most directors are busy with a handful of projects a year, Quasar is hard at work almost every day – writing, producing, directing, and editing several new releases a month for Zero Tolerance, Diabolic, 3rd Degree, and several others. Many of these amazing titles are gonzo and niche releases, but every now and then the talented filmmaker gives us a taste of what he's truly capable of when he sets his mind to it. Last year that came in the form of his unexpected hardcore BDSM romance Shades of Scarlet starring gorgeous Karlie Montana in the titular role.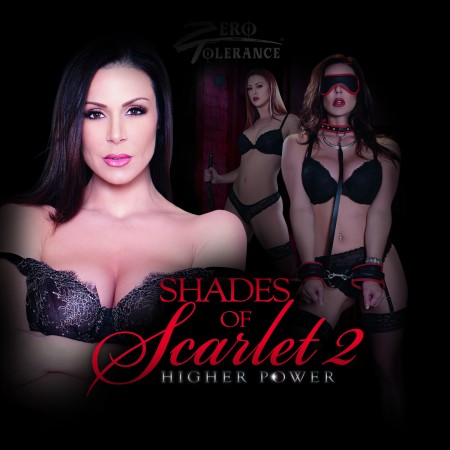 Based on the erotic encounters of a super fan who becomes sexually entangled with her favorite erotic novelist, Shades of Scarlet was a surprise dark horse contender come awards season. The original earned an editor's choice from both AVN and XBIZ as well as handful of nominations at every awards show, including Best Feature and Best Screenplay. It won Best Scene – Feature at XBIZ earlier this year. Now Quasar's hoping to recreate that same level of buzz with the highly-anticipated sequel, which picks up where the original left off with the unexpected suicide of the author and one reporter's quest to understand why it happened. Played by XBIZ 2015 MILF of the Year, adult superstar Kendra Lust, we're taken deeper into the deviant world of BDSM than ever before as she slowly loses control of the story she's investigating and assumes the role of Scarlet herself.
The big budget feature was shot in several locations over the summer. Starring a brilliant cast of porn's hottest up and coming, along with established stars, the show was as intense to make as it is to watch.
Enjoy these exclusive photos from the making of Shades of Scarlet 2.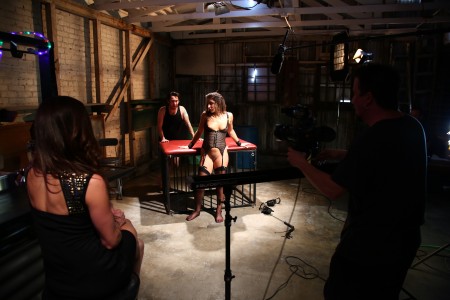 With beautiful sets, an added musical score, high production values, a stunning cast – and mind blowing sex – director Mike Quasar has succeeded once more in making the MUST OWN feature release of the year.