By Sam Phillips
Hope you come across this article before St. Patrick's Day for several reasons. The first is purely selfish; I'd love for you guys to catch my "Sexy St. Patty's Day Special" on Vivid Radio SiriusXM channel 791 replaying throughout that day and night, and available for download on VividRadio.com.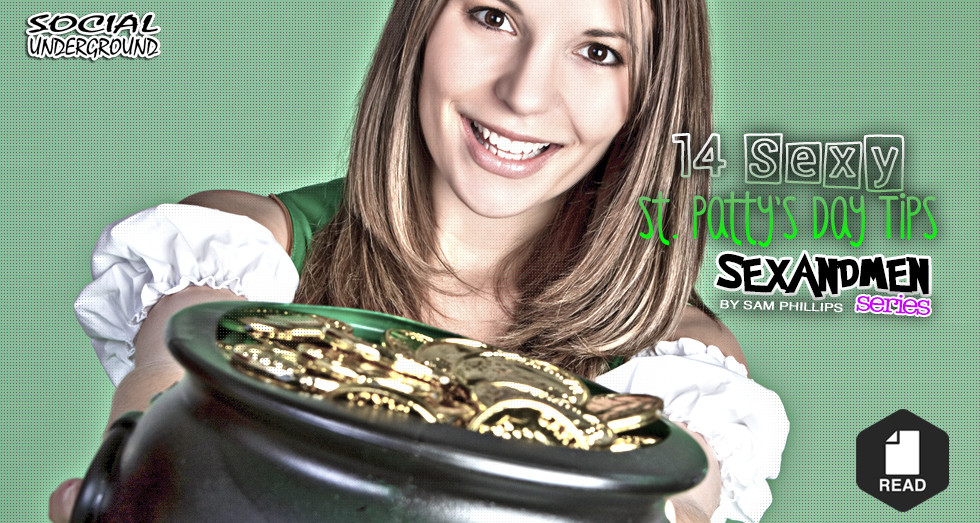 My 1-hour special features Irish American Adult Stars Jayden Cole, Belle Knox, Krissy Lynn, Erica McLean, my co-host Yanira Johnson and myself, all playing erotic Irish-themed adult games. For example, we hid gold 'Leprechaun' chocolate coins (recycled Gelt from our Horny Hanukkah Special) on our bodies prior to the show, and then during the show the porn star to our right had to feel us up (and down) to find it! Excited squeals and sexy shenanigans ensued.
The main reason I hope you read this before Tuesday is that while I was preparing for this radio special, I came across so much cool stuff relating to St. Patty's Day and sex, that I decided to compile and share a list of what I found – and where I found it, to help you 'Sham-rock' someone's world come the 17th.
There's the basic stuff. You can add green food color to just about everything to make it festive looking. Beer. Champagne. Jell-O Shots. Whipped cream. Ice cream and ice cream drinks. Waffles, pancakes cakes and cookies. Rice Krispies Treats. Cheesecake. Breads. Fried eggs, scrambled eggs, deviled eggs. Mashed Potatoes. Popcorn. White sauces. Frosting and Icing. Ice cubes. Water. Bathwater. Anything water (jacuzzis, pools, lakes, rivers, etc.). The list goes on.
Read more