Behind the incredible career resurgence of the veteran performer and 2015 AVN and XBiz 'Best Actor' nominee
Whenever an adult performer returns to porn following a hiatus, the conventional wisdom is that their second time at bat is bound to be a let down. But if there's one star who's bucked that trend, it's Kurt Lockwood.
A graduate of the University of Maryland with a B.A. in Theatre, Lockwood entered the adult business in 1998, and shot around 1800 scenes before retiring and relocating to Spain in 2006. After moving back to the U.S., he returned to full time porn duties in 2012.
A gifted mimic (one of his earliest leading roles was 'Johnny Coxville', a parody of Jackass star Johnny Knoxville), Lockwood got to use his skills for his hilariously dead-on performance as Doc in Will Ryder's comedic 2013 Love Boat XXX parody.
However, Lockwood really hit his stride this year with his work in Axel Braun's 24 XXX, and lately the star has become the 'go to' performer for intense characterizations, such as the psycho in B. Skow's The Gardener (2014).
One key to Lockwood's resurgence is that leading directors hold him in such high regard. As AVN Hall of Famer Braun told TRPWL,
Back in 2003, Kurt Lockwood starred in a movie that permanently altered the course of my life. It was a $250,000 production that I shot on film for Elegant Angel, and the title was Compulsion. It won major awards all over the world, and put my name on the map as a top director. Saying that Kurt was an integral part of that success would be an understatement. His exceptional acting skills, top notch sexual performances, and total commitment to the project, truly made Compulsion the success that it was, and, most importantly, the movie I wanted it to be.

Over 10 years later, after taking a long hiatus from the industry, Kurt once again took one of my movies to a different level with his uncanny, hilarious portrayal of Kiefer Sutherland's Jack Bauer in my parody of the hit TV show "24", and turned it into one of the favorite movies I've ever shot, deservedly racking up "Best Actor" nominations at all the major award shows. I honestly cannot praise Kurt Lockwood enough, and come January I will be rooting for him — he actually is the best actor in the industry.
I spoke with Kurt Lockwood in Las Vegas, and it was at times difficult to reconcile this introspective guy with the outspoken "problem child" of old, known for getting into more than his share of scuffles — both in person and online. A little bit older and wiser, here's Kurt Lockwood.
He's baaaack! And with some key nominations this award season. Congratulations.
I've been lucky enough to have won three AVN awards in my career and been nominated a ton, and i's always nice to be recognized for your work. This year both XBIZ and AVN nominated me for Best Actor for my role as Jack Bauer in the 24 XXX parody, and XBIX nominated me in a Best Threeway scene for American Hustle XXX, which I have to say owes primarily to the volcanic sexual performance of Carter Cruise who is just an amazing girl. It was certainly a fun scene for me as it was the only scene I've done (in 2000 scenes) that I have ever worn a Sheik costume during sex. [laughs] But ultimately of course most credit has to go to the very talented directors and industry legends, Axel Braun and Will Ryder, as both movies were their artistic visions that, as an actor, it's my job to realize for them. I'm just glad people seemed to have responded well to my work.
You came into the business in 1998. Was it after the HIV outbreak?
During. It was during the first moratorium that the business ever had. It was also before viagra, and all that stuff. I got into the business with my girlfriend, whom I'd already had sex with a million times. And I had to use a condom, because everybody was shooting with condoms then, after the first scare. So, for my first scene there were no crutches.
Suddenly you're having sex with your girlfriend with a condom, and it's in front of a room full of people.
And sets were much bigger then, too. It was like having a bunch of teamsters standing around. "Okay, you have to get hard right now", or "you have to pop right now, we don't have time to wait for you." Time is money, and you just had to be able to do it.
There's another performer, Kyle Stone, who was a big performer in the '90s. He's a great guy, and he feels that his work got taken away because of viagra and stuff. In fact, he wants to title his autobiography, "From A Skill To A Pill" or something like that. And I can sympathize with him, all of us from that era can. Back in the day there was only 30 of us guys, and there was a reason: it was because we were the guys who could do it. Something I see today is, guys will 'bomb' — that's what we call it on set — they'll bomb, and yet they'll still get more tries. Back in the day, you bombed and that was it, you were done.
You got into the business right at the beginning of the bubble — production was up due to the internet, and digital video cameras were getting cheaper.
The bubble got bigger and bigger until around 2005 to 2006. We were all making 150 grand a year, and driving cars with 20-inch rims. Every performer I knew was starting their own company, because the DVD profit margin was so great you couldn't fail to make money off it. Then the internet fucked us, just like it fucked the recording industry.
You left the adult business and moved to Spain in 2006. What happened?
I was coming out of a really big relationship and I was sort of on the rebound, and I fell in love with a beautiful Spanish girl and we had a baby together. Unfortunately, things in life don't always work out the way we wish they would and so I came back to the states and went to massage college in Baltimore where I got my certification as a Licensed Massage Therapist, and it's something I have a real passion for. Once you build up your private practice, massage therapy can be a hundred grand a year job, but until then you have to work at a place like Burke Williams or Massage Envy and the money just isn't spectacular. So, I came back to adult work and was fortunate enough to be welcomed back and booked right away and got AVN and XBIZ nominations my first year back. My first scene back was for my friend and very talented director Bobby Manilla (for Naughty America) with Eva Angelina, which was cool because she's a vet and she and I had worked a few times together years earlier before I had left. So, it was great to work with and for familiar faces.
What's the biggest difference between the way the adult business is viewed today, culturally, and the way it was in the '90s?
Well, that's easy, there's less stigma. It seems like every housewife in America now has a webcam and a Paypal account. Back when I started we were kind of like outlaws. People forget, the reason why we have porn names was because [up until 1988] it was illegal, and you didn't want to be traced back. If you used your real name, you could end up arrested. But now, look at Kim Kardashian, Paris Hilton, Pamela Anderson — the line is so blurred. They've really capitalized on those sex tapes, especially Kim Kardashian.
In the early 2000's there was still something unique about being a porn star, you know. That was why we made the money that we made. We were the only ones willing to sacrifice how we'd be viewed in society, and we were (and I donut can this in any egotistical way) attractive enough to be selected to be given money to be recorded having sex. Like I mentioned earlier, it was a much smaller talent pool back then.
I have a calendar from 2005 — this was a time before smartphones. One week I did 3 scenes a day for seven days in a row. That's how much work there was.
Which is one of the reasons I have to laugh when people who couldn't make it in porn back then, and shot maybe 12 scenes in their whole "career", come out and attack the adult business. People who were good at what they did, and reliable, could shoot 12 scenes in a week or two.
They say the golden age of porn was the era when the movies were actually in movie houses and shot on film, but for me the golden age was from, like, 2000 to 2005. It's hard to comprehend the amount of money that was around then, the freedom, even the parties that were thrown. I think it may have peaked when we had the AVN Awards at Mandalay Bay, in this huge theater with a balcony. You used to go to the AVN expo and see guys like Jules Jordan with huge booths with an [enclosed] office for meetings.
And guard towers… [laughs]
Vivid would have a huge set-up with a different contract star signing autographs in each corner. When we all stayed at The Venetian, the red carpet started from the moment you got off the hotel elevator, and then became this, like, half-mile walk to the ballroom by the convention center that was lined with fans and foreign press. That's how much money there was. The money is still being made, I suppose, but now it's being spread out to all these amateur models and cam performers all over the country — all over the world. The whole world is now able to syphon off that porn dollar, plus you have all the piracy sites. It's a wonder there's anything being made in porn valley at all. There's no middle class in porn anymore. You're either working A-list movies, or you're one of the bottom feeders doing 40 dude gang bangs. And I'm not disparaging those guys, but that's just how the business is now.
Speaking of A-list projects, you've had an impressive career renaissance. 
Well, I had a couple of things going for me: number one, I'm obsessed with working out, so I'm still 'hire-able' physically. Number two, I have a degree in Theatre, and I love to act. And number three is I try to bring a degree of professionalism to what I do. In the time I've been back, I haven't bombed once. And it's because I stopped partying years ago, I get the rest I need — I do what I can to try to stack the deck in favor of my being successful.
Your comeback has been buoyed in large part by your work in a ton of movies for major directors such as Axel Braun, Will Ryder and B. Skow.
Any performer will tell you that, you'll get in with certain crews, and you have a good rapport with them, and you're comfortable with them, they feel good with you, that's who tends to hire you repeatedly. I've been really fortunate to work with some of the best, as far as the big award winners. Axel is at the top of his game right now. Axel is great because he makes parodies that look like the actual original movie, only with sex in them. Will Ryder has a real passion for everything that he does. He doesn't care where the winds are blowing in terms of trends — he just gets a fire for a project, and whether it's The Wizard of Oz or Grease or The Love Boat, or more recently with Jersey Boys, or the Manson movie, he just picks up and does it.
Other guys like Joey Silvera for Evil Angel; Joey has his own style. You look at the screen and you immediately know it's a Joey Silvera movie. And Joey makes all the models look great. Mike Flowers with Devil's Films is a good friend of mine and we've shot almost a hundred scenes together now. We have thus kind of telepathy where I know what he wants and he knows what I need to achieve it, so we just rock the scenes out. Sammy Slater lets me cut loose. Every director that I work with I appreciate on their own terms. For example, B. Skow, creates awesome dramas with really complex characters that really let me stretch my acting chops. It's a pleasure to be on hits sets too. Every director that I work with, it's not just because it's work, you know, it's because I get something out of it and they get something out of it. I bring a skill set to work that they appreciate, and I enjoy working for them. I'm able to do my thing and we're able to have a pleasant experience.
What do you think you're best known for?
I think, these days people know me best for — he used to be a bit of a problem child, he was a solid performer, now he's come back, he's a dad… I think the main thing they see is that I'm a rock solid performer. Like I said, I've been back two years and I haven't bombed once. People know that if they hire me they've got a scene in the can, and I've done it so many times that they know they're not gonna have to tell me to open up for the camera, for instance, and I've got my internal clock that says, 'BJ is done, move on to this.' They don't have to micro-manage the scene.
There's no substitute for hiring a professional, especially in a field like this where you don't get a second take.
And because I've got a girlfriend, and because I've been around so long, they know that they can expect a level of professionalism from me. I'm gonna be there on time, I'm gonna have my IDs and my test, I'm gonna rock out the scene for you, and no fuss. At the end of the day, that's what everybody wants. Nobody wants to have to stick around on set because somebody isn't pulling their weight. We come in, do what we're supposed to do, and everybody goes home at a decent time.
Everyone, from the stills guys to the makeup artist to the director to the talent on set — everybody has an ego. It's not a bad thing. Everybody has needs, as far as attention goes. And I'd say half of being an adult film performer is being able to process and negotiate all those egos when you're at work, so that everything goes well and you come out in the best possible position — you performed your job professionally, no one has anything bad to say about you, you didn't get caught up in any 'he said-she said', etc… And it's very hard.
It's hard, and it also seems, at times, to be pretty rare — there being three sides to every story…
Always.
…And there being people in adult, as there are everywhere, who are looking for a fight or some kind of drama, or an excuse to knock somebody down. It's just about impossible to find anyone in porn that nobody has anything bad to say about.
Well, you can't win 'em all. As long as you can look yourself in the mirror, and you have a center, that's what matters most. You are your own ultimate judge.
Being in the public eye for a long time, and in your case having done over two thousand scenes, how is it to get a bad review, or being attacked personally online? Is it like a mainstream performer who hears, "I didn't like your Hamlet"?
That's the thing, we are our work. So, any kind of criticism goes directly to you because it's not just something like, "Oh, you designed this car we didn't like."
The criticism is inherently personal.
Yes. That guy can go design another car. But if someone attacks you in a review, or something like that, then it's more personal because you are your art, if you will, or your trade. I don't tend to read the criticisms. When you work a lot, the last thing you wanna do when you get home is put on porn that you're in, or read reviews. [laughs] You've got a life; you're going to the store or the gym, or to the movies with your boyfriend or girlfriend. We're not just sex machines; we have lives just like everybody else.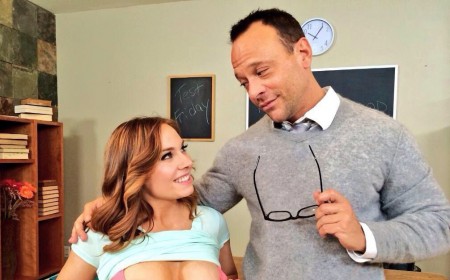 If you were dating someone, and you brought her a gift of some chocolate, and she said, "I'm sorry, I only eat carob," would that be the end of the relationship?
A) I don't know what carob is, and B) I would assume that carob is something awesome, so I would not fault them.
Interesting answer. Moving on… would the people you attended high school with be surprised about your choice of career?
Oh, yeah, totally. I was like quiet, art-y guy writing poetry. Dressed in all black. [laughs] 
So, if life were a John Hughes movies, which character would you be?
I'd be a cross between Bender [Judd Nelson's character in The Breakfast Club], and Anthony Michael Hall, because I was in all the 'advanced' classes, but I was still the kid who was into what we called 'progressive music' — like Depeche Mode and The Cure.
We often hear about the 'No List', where performers refuse to work with certain other performers — do you have a No List?
I wouldn't say that I have a No List. I mean, there's nobody who is on everybody's Yes List, but I can't think of anybody who I would say, 'Absolutely not.' Maybe some of my ex girlfriends. [laughs] For emotional reasons, if nothing else.
Which of the following is the best nickname for a butthole — starfish, balloon knot, or colon rose?
I like starfish, because it reminds me of Limp Bizkit's "Chocolate Starfish".
What music would we find on your iPod?
I'm also a licensed massage therapist, so you'd hear everything from my workout playlist, with Metallica and White Zombie, to Enya for the relaxation stuff. There's some country music I love, some hip hop I love. All kinds. Music is, to me, a soundtrack to what I'm doing.
What about for sex?
For sex, I like Peter Gabriel's "The Last Temptation of Christ" soundtrack, or maybe Portishead.
Real boobs or fake boobs…
I don't really have a preference, as long as they're nice. I think they can be taken too far — I saw a show recently where a woman with triple H's or something wanted to go bigger, and the doctors wouldn't do it.
Have you found it difficult to date while working in the business?
Well, dating is difficult period; we're all fumbling blindly to some extent. It does complicate things when you add in the fact that you fuck people for a living. I have found that — just speaking for myself — it has only worked when both people are performing, because then you can't really complain; you're both doing the same thing.
I didn't get into porn until I was pushing 30, and until then if you even looked at my girlfriend the wrong way we were swingin' at each other, you know? It took me being in porn to let go and mature to the point where I see that it is what it is, and I'm not jealous. Jealousy gets you nowhere.
I work, she works, it's fair. She can veto people if she wants, I can veto people if I want.
Relationship negotiation.
Right. For me, this has been the best balance. And what you come to realize is, it doesn't change who you are with each other, just because one of us goes out for a couple of hours and does what we have to do to earn a living. You're still the same person when you come home and sit down and you watch Netflix together. It took me a while to get to that point, but I;m glad I am at that point. It's a healthy way to think of things, and it's fair.
When you're on set, and maybe you're not really into the other performer, what do you do? Do you go to the 'spank bank' in your head?
I think women are beautiful. I mean, I've been on sets where the girls are talking about their boyfriends or husbands as you're about to do the scene, and are seemingly doing everything that might put a roadblock in your head [laughs] but basically what it comes down to for me is, there's something beautiful about pretty much every woman — whether it's her eyes or her laugh or her skin or her feet. Sometimes that's what it comes down to; you zero in on that. Okay, she's being difficult and putting up roadblocks either inadvertently or on purpose — you have to put that out of your head and say to yourself, 'wow she's got really nice boobs.'
How about when it's time to get off?
Same thing. There's going to be something about her that works. Especially in porn. I mean, there's probably some woman working at Walmart or wherever that I would have trouble getting off with, but the female performers have generally gotten through some sort of gateway in terns of looks or fitness. And, you know, money is a big motivator. That's your job.
How about the other side of the coin: when you're really into that person?
It's a fine line. But my girlfriend of 8 months [Maya Grand] — we met on a scene we were booked to work together. So, it can work.
You certainly seem happy and centered today, but there was a time, during your first go round, when you were sometimes kind of 'out there' — you know, 'Angry Lockwood'. You left some furious posts on adult boards, for example.
For one thing, now I stay away from online gossip and drama. Often the most dramatic thing in my Twitter feed is you, Whiteacre [laughs].
At that time, I took the stuff online very seriously, too seriously.
Why?
I was afraid it would cost me work; that people would read the negative stuff and weren't going to want to hire me or work with me. But it never had any effect on my work. So, I stopped letting it bother me.
Back in January 2006, you had a little altercation with gossip site owner Mike South at the AVN Awards. The story goes that you purposely spilled a drink all over him. What happened?
That's all water under the bridge as far as I'm concerned, but since you asked the question I'll tell you what happened. He had been talking shit about me on his site. I saw him at the show and I poured a full beer on him, on his shirt.
Did he try to fight you?
No, he just sat there, then of course tried to spin it on his site. But just like all bullies he is at heart a coward.
One report said he "drenched" you with his drink.
No. He kind of tossed some of his drink at me, like over his shoulder, as I was walking away, but he missed me. He may have gotten a little on my date, but no one was drenched.
Is A2M an essential, natural part of any sexual encounter?
Only after spicy Indian food.
What do you make of AHF's campaign against the adult industry?
The Puritans came to America from Europe so that they could practice their religion and do all things they weren't allowed to do in Europe. That included burning witches. The Puritan impulse is alive and well. It's the same thing, but now it's cast as "we're trying to protect you."
You're now living in Las Vegas, which seems to be a popular destination for lots of porners these days.
I moved to Las Vegas with my girlfriend Maya last August [2014] because I was getting booked to shoot more here than in L.A., on account of the industry itself shooting more out here these days because of the condom laws. I still end up commuting back to L.A. once a week to shoot for somebody there, but I find the desert really beautiful and have come to really enjoy the drive through the Mojave (except when I have to do it more than once in a week). Me and my girlfriend love living in Vegas though. We have a great place right off the strip, everything is so much less expensive here, a lot less traffic, plenty of parking…and Sin City is truly the city that never sleeps; you can find anything you want here 24/7.  The only thing I really miss about L.A. is the beach so Maya and I always make it a point to make time for Venice/SantaMonica/Malibu whenever we're there.
Except last time: I swam out past the breakers in and started getting swept out into the open ocean. I was a pool lifeguard and I'm a pretty strong swimmer but I had to have the beach lifeguard throw me their orange floaty Baywatch thing to make it back. I found out later that the riptide/undertow had set a record that day for being the strongest ever recorded in Venice. Glad I made it or instead of this interview you'd be posting my watery obituary. [laughs]