What better way to start off Hanukkah than a double dose of Jew. A great Jew on Jew interview that may or may not end with Tara Lynn Foxx shooting Whiteacre in the face.. I recommend this Hanukkah read to all..
Interview by Michael Whiteacre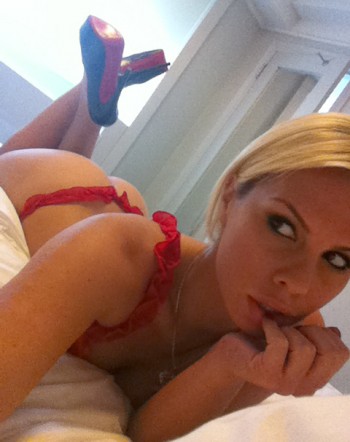 I first met Tara Lynn Foxx during the 2012 'No On Measure B' campaign, and was immediately taken with her. She's a smart, hot Jew who does anal; where I come from that's the quadfecta. My mind raced, and I thought, 'That's just the kind of gal I'd love to have lick me someday.'
Cut to: The Sex Awards last month in Hollywood. BOOM!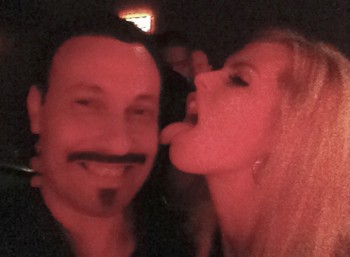 The hangover from that beautiful night had barely receded into memory when I asked Tara if she'd answer some questions for our readers. Apparently I caught her in a fighting mood…
You've tweeted about Yom Kippur, and you love Jewish Delicatessens, yet you have tattoos. I'm a Jew and I'm confused, help me out here (and also are there any stories behind your tattoos?)
I'm Jewish, but do not adhere to all of the practices. As for a story behind my tattoos, there really aren't any. "Sometimes a cigar is just a cigar."
When did you shoot your first actual porn scene, and how old were you?
I was 18. It was during February of 2009.
Where did your 'nom de porn' come from?
I didn't plan on being in porn for more than a year so I thought it would be funny to take the most common names and make it one…. I knew I wanted three names. I chose to spell Foxx with 2 x's because I LOVE Jamie Foxx.
What's your favorite thing about the adult business?
It's the lure of celebrity. It's feeling power and having attention focused on me while also utilizing a control over my own body. In essence…profit through entertainment.
What do you think you are best known for in the porn world?

Having class and a brain in my head. Oh and my all natural lips!
What were you like growing up? Were you an attractive child or an ugly duckling?
I was a bright student who loved sports and acting, but went the easier route of exploiting my good looks and being afraid of the challenges of mainstream.
Would your high school fiends be surprised at your career in adult entertainment?

At first, yes. But my true friends are supportive and still love we. I was surprised when some caved into the false boredom life of suburbia, the kids, the spouse and the occasional fling on the side. Ah…mainstream hypocritical America.
If you had a mysterious 'Cincinnati" shoebox hidden in your closet, what would be in it?
Is this a 'Hot Tube Time Machine' reference? If I did have one, it would probably be nudes of ex's and notes to remind myself why they're an ex.
If someone wanted to see the best of Tara Lynn Foxx, what should they watch?
I'd pick Hustler's 'This Ain't Homeland XXX' or Digital Playground's 'Hypnosis.'
How often do you travel to your money cave to re-fill your secret bag of gold?

That's for me to know and you to never find out
Dammit! Okay, then let's talk about anal. Is it something you enjoyed in your personal life before performing it for the cameras?

That's my personal life and that stays personal. I have done what I needed to on camera and on my terms.
You've done a fair amount of fetish work, including scenes fro Kink.com — do you consider yourself kinky in real life?

I can say there definitely is an onscreen Tara and home life me. I am glad I got to shoot for that company before it became mainstream. It was a safe place to experiment in the fetish world and get a real taste of it.
Is there a type of scene you really like to shoot?
I like the erotic, artsy type of shoots vs. the extreme scenes that are more of a stunt scene than a sex scene.
Is there anything you won't do on film?
Yes. I wish I could say that I'm a no limit performer, but the truth is, thanks to my time on film, I know exactly what I like and what I don't like.
We always hear about "THE NO LIST" for porn performers — do you have a No List?
Not really. I've only had a problem with one guy but he's no longer in the business.
Is there a director or company out there you refuse to work with?
I don't name names. I don't talk shit about people in a public forum, and whatever I do say I say to their faces. But to answer your question no, I love working with everyone!
Do you shave or wax, and what do you have against bush?
I like to shave. While I didn't vote for either one, I have nothing against them, but we all love bush in our own way.
Which performer eats the best pussy?
Come on… I don't wanna make the ladies mad… This is not a fair question!
Who has the best tasting vagina?
The one that doesn't taste or smell like a can of tuna sitting in a hot car.
Have you ever cruised porn sites, or adult talent agency sites, to perv on who you might want to work with?
All the time.

Do you have a porn BFF?
Kennedy Leigh and Isis Love are my porn sisters.
Do you find it difficult to date, or maintain a relationship, being a performer, and why?
It sucks that I'm a porn performer yet I'm lonely. I've had a few failed relationships since I've been in porn (which is my whole adult life). Usually I meet guys who want to date Tara and not the real me. I can usually tell pretty quick though, thankfully.
Cookie (my dog) is my best home companion. She's always happy to see me, loves to cuddle and protects me from intruders. She's also a good way test a guy. If I bring him home and she doesn't like him, he's done. Next! lol I have had a couple positive relationships, but most are just fans or not a real person and don't treat me well.
Starfish, balloon knot, colon rose, or other — what's your favorite nickname for a butthole?
The name of the person who has pissed me off at the moment.

Any funny stories of things that happened while you were shooting a sex scene?
OH-EM-GEE! Yes, When I was filming 'This Aint Homeland XXX' Axel walked off set right before one of my sex scenes. The male talent I was working with had this fake hair glued to his head. One of the PA's came in and said "Axel wants you to be ripping his hair off during the scene." I looked at him dumbfounded. "What?! Are you fucking serious?" I replied.
He says, "Yes, I swear to you." I didn't understand why that would even be sexy but I did what I was told. Half way through the scene Axel walks in and calls "Cut!!" He's like "WTF is going on, why are you pulling his hair off." I was so frantic I was like, "What do you mean! The PA said that's what you wanted us to do!" He starts laughing hysterically. Come to find out the PA was pulling a prank on us. It was funny after a while but I felt so silly when it happened. I guess they left it in the movie too!
Do you cam often?
Not often enough but when I do I'm on TaraLynnFoxxLive.com
What do you enjoying doing in your private life — hobbies, etc?
I love to spend time with my dog, cook, paint, write, brainstorm ideas to take over the world. I've been into reading more lately which is great because my "To-Read" pile was getting pretty high.
Do you have any non-adult related ventures?
Of course! I'm not going to be in porn forever. I've always had other projects but this coming up year you will finally see some of them.
If I stole your iPod what would I hear?
The sound of my foot up your ass for stealing my iPod. Catch up… People have iPhones now!
Ugh. Does watching the TV show 'Cops' make you sweaty?
No, but the 'reality shows' on nowadays make me nauseous.
Do you have a particular health / work-out regimen?
Well I've become an Herbalife independent distributor recently. So I've been taking my health more serious. I eat 6 times a day and work out as much as I can. I love the saying "Abs are made in the kitchen" Working on those next.
Have you ever lost a loved one to a machete fight? Would you ever consider being part of a machete fighting PSA?
Random! I'd catfight with a machete. First the clothes go, then off with her head.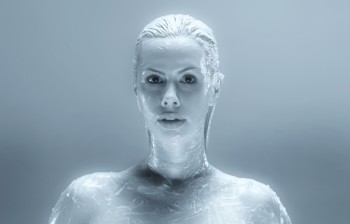 How often do you have sex in your private life?
It's called my 'private life' for a reason.
Do you agree that ass to mouth is an essential, natural art of any sexual encounter?
It doesn't matter what I think. If people want it they will do it. Who am I to say?
I'll put that down as a yes. You and I met during the campaign against Measure B — what are your thoughts about AHF's motivation for its crusade against the adult business, and do you think the government should be able to mandate what you can and cannot do with your body?
AHF's greedy mission is the greatest cover up I've personally witnessed. They claim they just want to help the performers but they obviously have ulterior motives. As for the government, once they can govern entertainers, they will have the power to control the general population. L.A. county voters were stupid for passing Measure B. I wouldn't be surprised if the government starts to tell us how we can conceive and how many we can reproduce.
If the law considered it sufficient, would you shoot with an untested male performer who wore condom?
Never.
How upset were you when you found out Scott Tenorman didn't die?

I cared more when Brian [from 'Family Guy'] died.
Name someone who needs a bitch-slap.
You need one for some of these questions.
In the critically acclaimed adventure, "The Last of the Meheecans" the part of Mantequilla, a great Mexican leader, went to a white actor named Butters Leopold Scotch. Do you find this racist?

I see you're earning that bitch-slap well.
If someone came to you and wanted advice on entering adult work what would you say?
Don't! Unless you are completely sure you'll be OK with this stuff being on the Internet, for the whole world to see, FOREVER! Aurora Snow wrote a letter to her unborn child. An article about that letter almost criticized her honesty. She said, "at the time she didn't plan on having kids.. When she made the decision to enter porn, you gotta look into your future and make sure you will be okay with it then," or something along those lines. When you're young and dumb and full of cum (yes I think I was in the movie.. No pun intended) it's a fun job to have. But you get older… children and marriage are on the horizon…. well, it's usually a difficult subject to explain to your kids and in laws.
Where will Tara Lynn Foxx be in five years?
Retired. I hate to kill the fantasy but Tara is a character … She will always be on the Internet to entertain the masses but at some point it's time to move on. You will not be seeing Tara as a MILF.
Okay, pimp your links…
TaraLynnFoxx.com
TaraLynnFoxxLive.com
Phone Sex
Twitter
IG: TaraLynnFoxx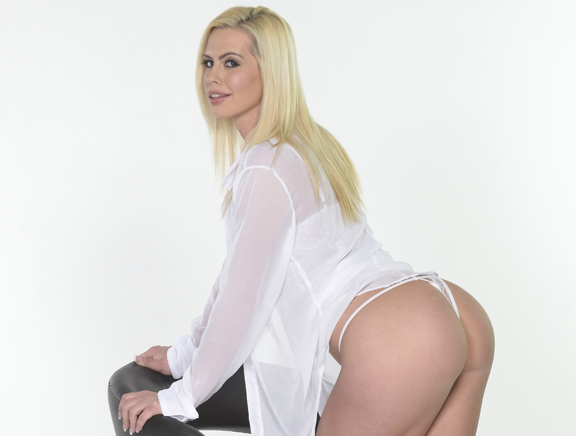 Tara is nominated for BEST ASS in this year's AVN fan voting. She has the wholehearted endorsement of TRPWL
Please click this link to vote