Two of the triplets who caused a sensation when they posed for Playboy were arrested after a brawl at a strip club.
Vicki Satterfield and Sarah Satterfield were held after allegedly attacking the club's manager.
Surveillance video at the Brass Pole strip club captured the pair fighting with other dancers in the dressing room.
As many as six other women were involved in the brawl.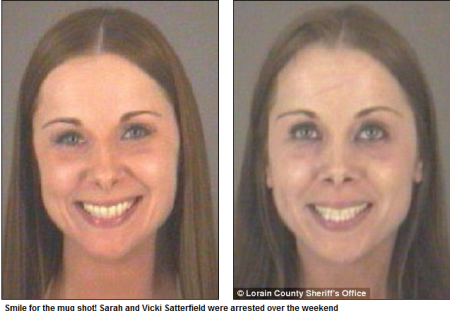 The 28-year-olds, who along with their sister Rachel, appeared in the magazine in 2007.
The triplets, from Elyria Township in Ohio, had said it was their ambition to appear naked in the magazine since they were 15-years-old.
They had the blessing of their mum Noreen who supported their twin ambitions of either becoming a playboy centerfold or stripper in Las Vegas.
The girls were chosen for a photo spread after a photograph they submitted was spotted by Playboy founder Hugh Hefner.
Despite their brush with fame the triplets continued with their 'day job' as strippers.
According to a police report Vicki Satterfield was captured on surveillance video starting a fight with another dancer at the Brass Pole club.
The two women threw objects at each other before "the altercation then turned physical with at least six dancers, all of which appeared to be mutual combatants."
The arrest report said Club manager Melissa Anderson then tried to remove Vicki Satterfield from the club and that her sister Sarah "attacked the manager".
The fight was broken up by others at the club.
The report said Vicki Satterfield was drunk and at the Lorain County Jail she threatened to 'kill that h-,' in a reference to Anderson.
The Satterfield's are free on $1,000 bonds after being charged with assault.
They were due in court on Monday.