RICHMOND, Va. – Almost overnight, Virginia has emerged as a critical state in the nationwide fight to grant gay men and women the right to wed.
This purple state was once perceived as unfriendly and even bordering on hostile to gay rights. That's changed after a seismic political shift in the top three elected offices, from conservative Republicans to liberal Democrats who support gay marriage.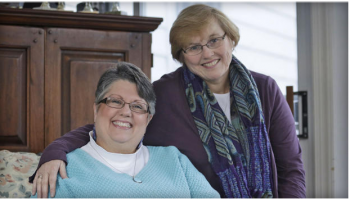 Two federal lawsuits challenging the state's constitutional ban on gay marriage are moving forward, and a hearing on one of the cases is scheduled for Jan. 30.
Along with the recent court rulings in which federal judges struck down gay marriage bans in Utah and Oklahoma, gay rights advocates are heartened by the new mood in Virginia.
Symbolically as well, they say, the challenges of Virginia's gay marriage ban resonate because of the founding state's history of erecting a wall between church and state and a landmark U.S. Supreme Court decision involving a Virginia couple and a past taboo: interracial marriage.
"Virginia is one of several important battlefronts where we have the opportunity now to build on the momentum, embrace the public's movement in favor of the freedom to marry and end the discrimination," said Evan Wolfson, founder and president of New York-based Freedom to Marry, which seeks to have same-sex marriage bans struck down nationwide.
With the election of Gov. Terry McAuliffe and Attorney General Mark Herring, the state made a hairpin turn away from the socially conservative officeholders they succeeded, particularly Republican Attorney General Ken Cuccinelli, an activist on social issues such as abortion and gay marriage. Herring had campaigned, in part, on marriage equality, and McAuliffe issued an executive order on inauguration day prohibiting discrimination against state employees who are gay.
The lawsuits put Herring's office in the position of arguing against a right he championed on the campaign trail. A spokeswoman said "he's reviewing appropriate legal options."
Victoria Cobb, president of the conservative Family Foundation of Virginia, said she is concerned about the recent court decisions on gay marriage and Herring's recalcitrance.
"I'd like to see the attorney general, as the person elected to defend our laws, give a staunch defense of it," she said. "That's what the top attorney should be doing."