An app designed to help men compare the length and girth of their penis with the rest of the world has hit Apple's iOS App Store.
The 'Condom Size' app, spotted by Appside, allows chaps to measure their little fella via the iPhone's touchscreen.
The idea is to teach men about how to properly buy and fit a condom, in the hope that they become more effective.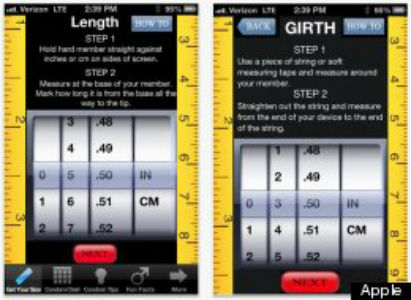 One of the biggest causes of condoms failing is improper fit, according to sexual health charities.
The app asks men to hold their penis against the phone, measure it at the base and then use a strip to find the girth.
Of course some men might find it easier to use an iPad…
After entering their personal stats, the app displays a graph about where you measure up on the world league table.
It also provides links to places to buy the recommended size of condom.
Makers VSM Enterprises say: "This app educates the male population on the proper condom placement and helps determine proper condom size. The app also includes educational condom tips, fun facts and more."