New charges filed in Christy Mack assault include attempted murder
TRPWL reports from the Las Vegas Regional Justice Center
Jonathan "War Machine" Koppenhaver appeared at a hearing this morning in Las Vegas Justice Court. Koppenhaver was arraigned on over 30 charges relating to the brutal Aug 8th beating of adult star Christy Mack and another man, as well as Koppenhaver's subsequent flight from justice.
Koppenhaver entered a plea of not guilty.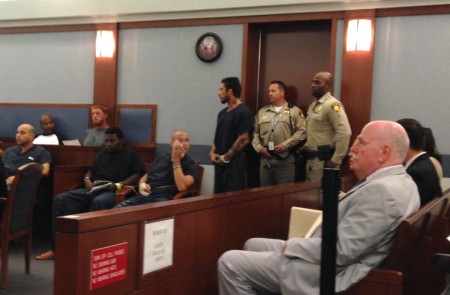 Justice Melanie Andress Tobiasson did not set bail for Koppenhaver. His next appearance  — a preliminary hearing — was scheduled for Oct. 17.
Former Bellator MMA and UFC fighter Koppenhaver was booked in the Clark County Detention Center in Las Vegas early Saturday morning.
Charged with brutalizing his ex-girlfriend Christy Mack and another man, Koppenhaver, was arrested at a hotel in a Simi Valley, Calif. on Aug. 15, following a week-long manhunt.
Koppenhaver, 32, waived extradition at a hearing in Ventura County, Calif., and was transported to Las Vegas early Saturday.
Today's Arrest Warrant Return Hearing represents, in essence, the endpoint of the extradition process. At this stage, Koppenhaver's legal counsel is named, he enters a plea, and a preliminary schedule is set.
His amended complaint contains more than 30 counts, including sexual assault, kidnapping, and two counts of attempted murder.
Initially facing up to 32 years in prison, Koppenhaver is now facing a potential life sentence.
One of his attorneys calls the case "overzealous prosecution."