Ex-performer Cameron Bay aka Cameron Adams, the chick who claims she contracted HIV on a porn set, is now trying to get the State Of Arizona to set aside her felony convictions:
Apparently Cameron Adams wants to vote and start carrying a fire arm… I mean, why else would she want to set aside her felonies like they never happened?
Or could it be that she's set to give testimony in a civil trial?  Gee TRPWL what does that have to do with anything. Its not like Cameron ever broke into someones house and took a shit on a penthouse cover.    Well, it does matter, when a witness is a felon, that info can be brought up during cross, or put in front of the jury in other words. The jury could then use that info in trying to determine her credibility
I'd be willing to bet that somehow AHF has a hand in these latest Adams filings. Gee TRPWL, why would you say that, its not like AHF has ever paid her money in the past
So Cameron Adams will now go in front of an Arizona judge and tell them she's changed.. That she's no longer person who once threatened to have a performer gang raped.  Gee TRPWL, maybe shes a good person now, who cares if she took money to help shut down porn.
Define Irony TRPWL: Sure TRPWL fan, Irony is when AHF allegedly tries to help a felon get her felonies overturned in an effort to get said ex felon to commit another felony, perjury, by falsely testifying under oath she contracted HIV on a porn set..
You be the judge:
The day that Adams ALLEGEDLY contracted HIV, which was 3-4 years ago, she had sex with Xander Corvus, oral with Loreilei Lee, and she attempted to blow a tested extra.. Not one of those people has HIV, Xander and Loreilei have tested probably close to 50 times since..No HIV
You know who does have HIV?  Adams, her then boyfriend of several years Rod Daily, and one other person who participated in sexual relations with Daily.. Hmmm.
Let's see, Cameron Adams and her click have HIV, Adams excluded, the others on set that day DON'T…Weird
Adams says she must of contracted HIV when a bystander on set touched her…Yes, i wonder what the mathematical chances of someone contracted HIV from being touched are..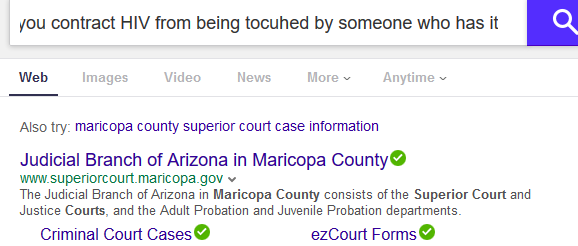 Only certain body fluids—blood, semen (cum), pre-seminal fluid (pre-cum), rectal fluids, vaginal fluids, and breast milk—from a person who has HIV can transmit HIV. These fluids must come in contact with a mucous membrane or damaged tissue or be directly injected into the bloodstream (from a needle or syringe) for transmission to occur. Mucous membranes are found inside the rectum, vagina, penis, and mouth.

In the United States, HIV is spread mainly by

Having anal or vaginal sex with someone who has HIV without using a condom or taking medicines to prevent or treat HIV.

For the HIV-negative partner, receptive anal sex (bottoming) is the highest-risk sexual behavior, but you can also get HIV from insertive anal sex (topping).
Either partner can get HIV through vaginal sex, though it is less risky for getting HIV than receptive anal sex.

Sharing needles or syringes, rinse water, or other equipment (works) used to prepare drugs for injection with someone who has HIV. HIV can live in a used needle up to 42 days depending on temperature and other factors.

Less commonly, HIV may be spread

From mother to child during pregnancy, birth, or breastfeeding. Although the risk can be high if a mother is living with HIV and not taking medicine, recommendations to test all pregnant women for HIV and start HIV treatment immediately have lowered the number of babies who are born with HIV.
By being stuck with an HIV-contaminated needle or other sharp object. This is a risk mainly for health care workers.

In extremely rare cases, HIV has been transmitted by

Oral sex—putting the mouth on the penis (fellatio), vagina (cunnilingus), or anus (rimming). In general, there's little to no risk of getting HIV from oral sex. But transmission of HIV, though extremely rare, is theoretically possible if an HIV-positive man ejaculates in his partner's mouth during oral sex. To learn more about how to lower your risk, see Oral Sex and HIV Risk.
Receiving blood transfusions, blood products, or organ/tissue transplants that are contaminated with HIV. This was more common in the early years of HIV, but now the risk is extremely small because of rigorous testing of the US blood supply and donated organs and tissues.
Eating food that has been pre-chewed by an HIV-infected person. The contamination occurs when infected blood from a caregiver's mouth mixes with food while chewing. The only known cases are among infants.
Being bitten by a person with HIV. Each of the very small number of documented cases has involved severe trauma with extensive tissue damage and the presence of blood. There is no risk of transmission if the skin is not broken.
Contact between broken skin, wounds, or mucous membranes and HIV-infected blood or blood-contaminated body fluids.
Deep, open-mouth kissing if both partners have sores or bleeding gums and blood from the HIV-positive partner gets into the bloodstream of the HIV-negative partner. HIV is not spread through saliva.

 
Well we can rule out from sex, since not one other person on that set has HIV. What about that needle stuff?  Interesting, Maybe an extra on set stabbed her with an infected needle?   has to be right?  how else could Adams come into contact with a dirty needle…It's not like her or her BF or Delgado had ever used IV drugs.. Hey quick question totally unrelated to this?  In escort ads, what does Party and Play mean?  Like chips salsa, board games and sex? Asking for a friend
So we can rule out sex, dirty needles, what about breast milk? Maybe someone on set shot her in the eye with tainted titty milk..  Like the award winning holiday movie The Christmas Story.. Only instead of a red rider bb gun, it was a pair of Double D's loaded with the aids…
Here are some interesting numbers.. The chances of catching HIV from vaginal sex are 1 in 2500.  Not to make light of the one person, but those are fairly decent odds..   But Cameron Adams, the soon to be ex felon, wants everyone to believe she contracted it from being touched in a non sexual way… Not only that, but she wants everyone to think shes not saying these things for money, but out of the goodness of her heart..
HIV on a California Set?  Nope…
More to come