When journalists set out to write about the evils of pornography, they know who to ask for quotations.
Mark Mann's article in the Toronto Star, "Is porn desensitizing men to violence against women?", is a case in point.
The piece opens by asking, "Why do men get off on seeing women get hurt?", before honing in on the usual bogeymen: "Experts say there's an increase of violence in porn," writes Mann, "and the uptick has contributed to the epidemic of porn addiction."
There is no solid scientific research that shows pornography addiction exists… and in fact viewing porn may have benefits, researchers say. So, who are these "experts"?
Mann cites radical feminist anti-porn activist Gail Dines, and amateur pornographer/gossip blogger Mike South.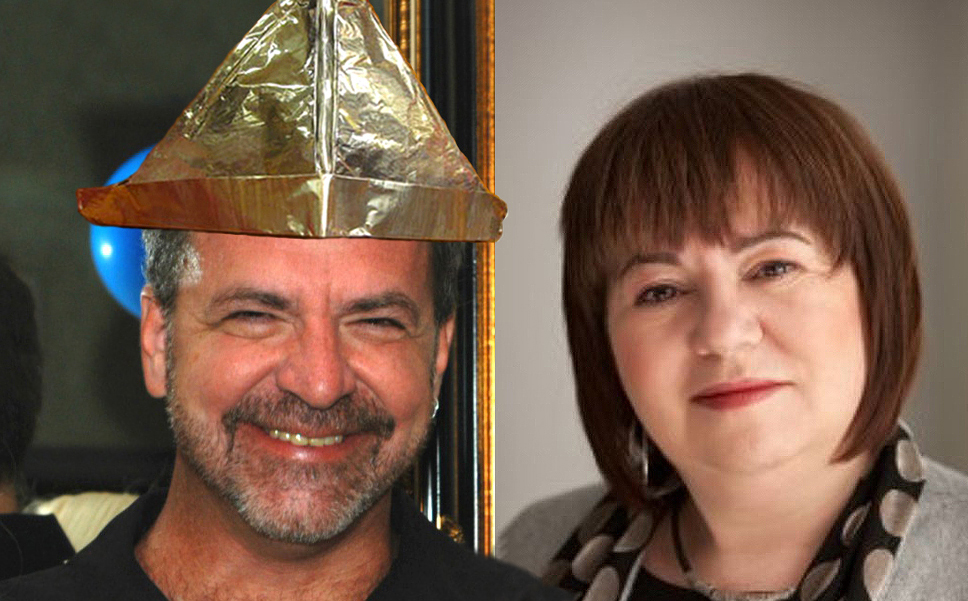 While Dines makes no bones about her goal being the destruction of the adult business, South likes to pretend he loves the industry that rejected him (first as a talent rep, then as a director) back in the 1990s.
As TRPWL's Shawn Thompson noted last spring,
To hear Mike South tell it, nothing good ever happens in porn. His site is nothing more than one giant ongoing attack on the world of adult. Every post is negative. He goes out of way to tell you how bad it is while telling you how much he loves it.

Mike South is like that dad who tells his kid he loves him while beating him and calling him a loser.
The Toronto Star feature includes the following lament:
South misses the days "when porn was fun" and porn movies still told stories. "Now with gonzo porn, even at its most basic, you're just watching two nameless people having sex on screen," he says. "There's no sense of identity; there's no sense that they're even real people."
This from a man who videotapes young women down on their knees in a room at the Embassy Suites Atlanta, being ejaculated upon by a group of 6 to 10 men who have not even been tested for common STIs such as gonorrhea or chlamydia.
Now, the fact that Mike South hypocrite, narcissist, and axe-grinding fraud is old news, of course. However, it was this line in Mann's article that really caught our attention:
Mike South, a pornographer in Atlanta, Ga., who helped spearhead the first wave of gonzo porn in the '90s…
Let's examine that claim for a moment.
"Gonzo porno" is a style of adult scene in which there is an acknowledgement of the presence of the camera.
"Spearhead"
noun: an individual or group chosen to lead an attack or movement. synonyms: leader(s), driving force, front runner(s), front line, vanguard
verb: lead (an attack or movement).
Director, and Evil Angel founder, John Stagliano is generally credited with the invention of gonzo porn in 1989, when he produced The Adventures of Buttman, although, as some have noted,
it is more fair to say that he was the Henry Ford of gonzo — he created a character and made the genre his own; his Buttman movies number more than seventy, and he has been the inspiration for countless imitators.

Another important and often-copied gonzo artist is Adam Glasser, AKA Seymore Butts, who worked with Stagliano in the early '90s and then forged his own identity by creating another character who had an obsession with anal sex. Glasser has shot more than a hundred Seymore Butts movies, and his girlfriend and protégé also became a power in the gonzo world with her Shane's World mini-empire.
Stagliano discussed the birth of gonzo porn with Michael Whiteacre in a TRPWL interview:
I do believe I was instrumental in starting the gonzo thing. Even back in the early '80s when I was first starting to shoot camera and work with other people on productions. I remember working on Mark Carriere's first movie…. J.D. [famous as John Leslie's cameraman] was setting up a strip shot in a nightclub, and he's doing "cut" and "cut" and "cut." And I'm thinking, 'There's no energy there, why don't we pan?' and I'm trying to get him to do handheld and stuff – because I'm the one who wrote the scene.
Now, as the Wikipedia entry on gonzo porn notes, the genre "is influenced by amateur pornography," but in 1989 when Stagliano was reinventing modern porn as the leader of "the first wave of gonzo", South hadn't yet picked up a VHS camcorder.
In 1994, when gonzo was already the biggest thing in porn, South still worked as an IT guy, and was hiring female performers to escort him and introduce him to adult industry players at the East Cost Video show.
South didn't even shoot a movie for a major distributor until 1997 (Elegant Angel), and was fired before the movie was released.
Wikipedia features a list of "Notable gonzo pornography directors" and of course, South isn't on it.