Someone sent me a a link to a new Penthouse article titled, 'Toxic Femininity', it's a really good read, it basically accuses Asia Argento & Rose McGowan of using the #MeToo movement (sexual assault claims) to further their careers. The article doesn't mention porn in anyway, however, right in the middle of the MeToo story is this ad: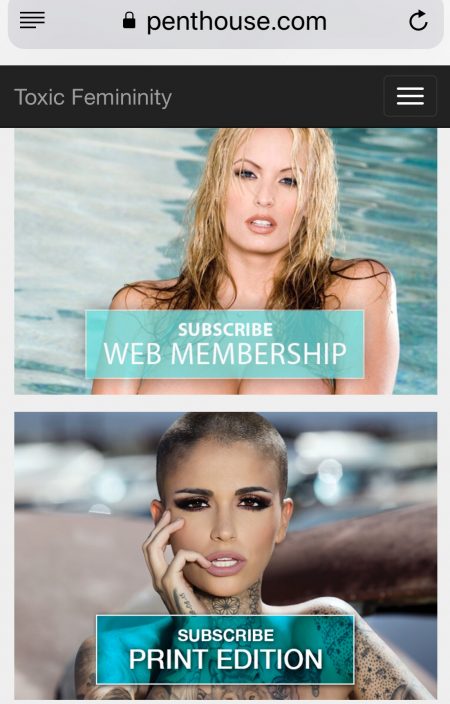 How great is that? A story titled 'Toxic Femininity', which is about chicks being scumbags, features an ad with one of Porns biggest scumbags, Leigh Raven
Sadly the chuckles were short lived, I was told that Leigh is a new pet..No not her suitcase pimp Nikki Hearts pet, a Penthouse Pet.
I guess Penthouse doesn't care that she lied, that the cops said we aren't gonna prosecute ,that the video evidence shows no assault, and the people on the set don't back her story..Na, its all part of the bullshit #MeToo crap that women don't lie about being raped..
Fuck it, Ill play ball..
Here Penthouse, Below you will find my recommendation for each month. They all lied about being raped, so they are perfect for your magazine.
Penthouse Pet January. Kora Peters
Penthouse Pet February Gia Paige
Penthouse Pet March Leigh Raven
Penthouse Pet April Nikki Blue
Penthouse Pet May Leigh Raven
Penthouse Pet June Serenity Haze
Penthouse Pet July Nikki Benz
Penthouse Pet August Tasha Reign
Penthouse Pet September Shelly Lubben
Penthouse Pet October Danica Dillon
Penthouse Pet November Tasha Reign
Penthouse Pet December Leigh Raven
Penthouse Pet Of The Year Goes Too………. Nikki Hearts, for masterminding one of the biggest porn lies of the last 5 years…
Since Leigh and Tasha have have each made more than one bogus sexual assault claim, it only makes sense, at least at Penthouse, to name each one Pet more than once..
Want to be featured in Penthouse? Just accuse someome of rape, it doesn't matter anymore if you're telling that truth, the person you accuse will be ruined long before their day in court, and you will get an extra 1500 to get high with.
Once the video footage comes out proving you lied, you will also get an Alt Porn award and John Stagliano will give you your very own EA showcase…  So go for it, what do you have to lose? Nothing, nothing at all