As predicted, Shy Love is back in the game.
This wasn't a spur of the moment thing… Shy is sick, allegedly broke and in need of cash.. One of her alleged scams I'm not at liberty to discuss at this moment but I will later, it's the saddest one yet.
First, this tweet went out this morning. This is for one of two shoots I knew she booked, but didn't wanna give up the girls.
Shy shooting really isn't a big deal, its only a big deal due to the way she went about it..
The Shy Love comeback list:
 Broke, need money, plan comeback
 Threaten any girl who turns against me with "I'll post your private info online"
 Book VIP/LAX girls on shoots, then report shoots to shut down the competition.
 Lie about comeback bringing attention to comeback
 Block all of Sean's twitters and report his email as spam
 Forget that I told everyone I was gonna announce comeback on Oct 5th
 Because Sean ruined big comeback announcement, ask my bitch Mike South to do it for me.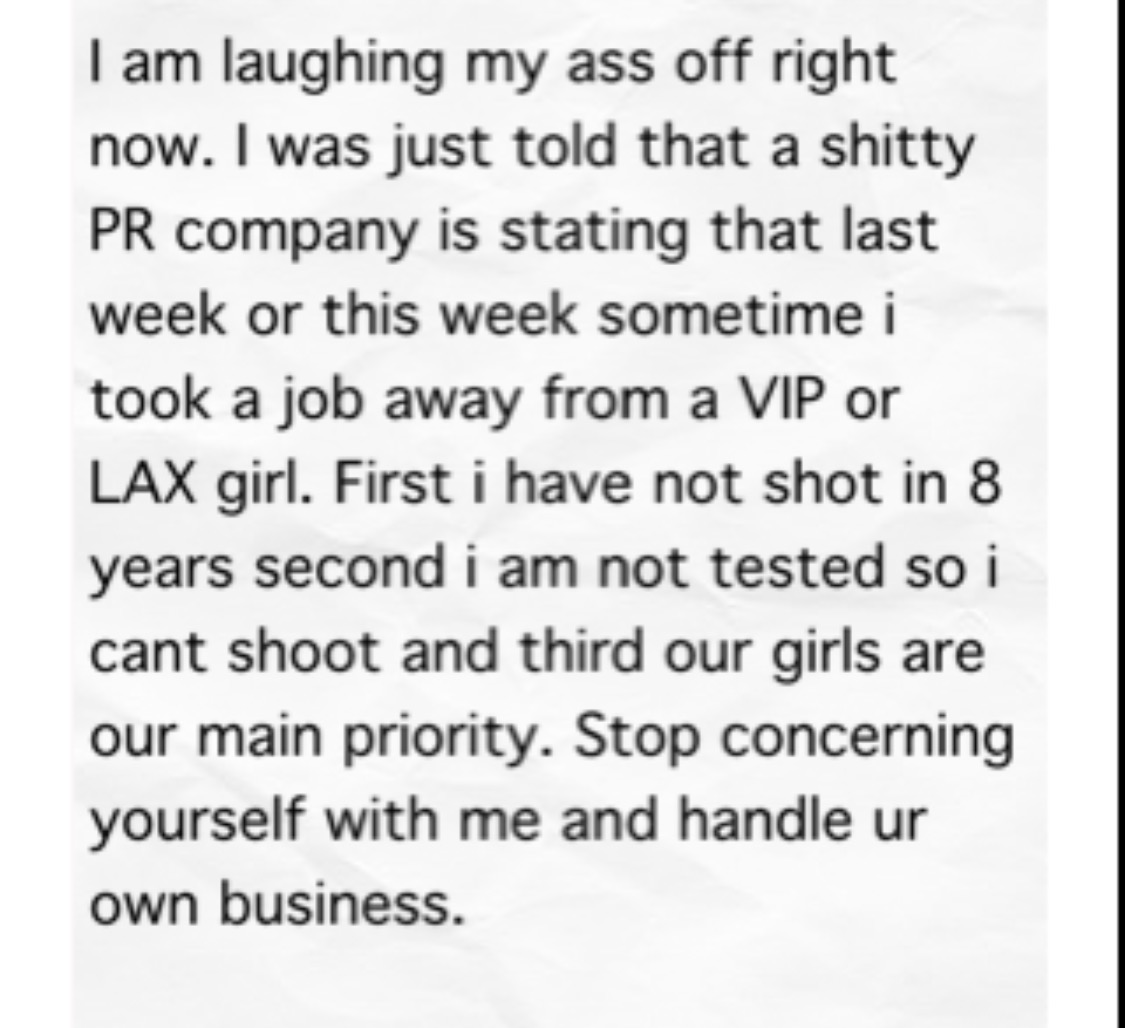 So Brazzers approached Shy about a comeback and she asked to shoot with one of her own girls??    Shy cares about her girls, you want Shy, you gotta use a VIP Connect girl…Right ? I'm sure Shy fought tooth and nail for VIP or LAX girl, but then big bad Manwin stepped in and said 'HAHA, Never Shy Love', using their Dave Chappelle Rick James voice  ..
If girls are such a priority, why is she allegedly calling in shoot locations?  Think about that for minute.  Shy is so pathetic she calls in shoot locations, for nothing more then shits and giggles. Shy is suing like 43 people right now..LOL Who does that?  Her basic complaint is people talked bad about her and ruined her biz..LOL-LOL-LOL-LOL .
People don't wanna do business with Shy Love cuz shes a immature self-serving scumbag who couldn't care less about the people close to her. She sells out her own agency then publicly speaks down on girls who escort when everyone knows her situation.  Quick Shy, call Mike, have him write a blog about me, Madrid's waiting..
All one would really need to do is look at which shoots have been visited by Law Enforcement, OSHA or permitting police, see if anyone connected to Shy is on that set or aware of the location. Then do some simple math.  One agency owner told me about a guy who's been around forever, when he books a girl he won't tell him which company the shoot is for and only gives up the location at the very last minute. I found that odd till I started getting reports of Shy calling in shoots and making that threat to girls and directors.
If there are 6 raids and 3 of them have a Shy connection, then we know something's up…
I would think as an owner of agency you would never ever even make that threat, even in a joking manor. Not with AHF on the prowl handing out Target gift cards.
I' reminded of an episode of arguably the greatest television show ever, Miami Vice.  The 2 parter, "Calderon's Return."  Calderon was the drug dealer from the pilot episode who got away. Later in life he decided to comeback to Florida and start being a drug dealer again.  His first plan of action was trying to eliminate the competition, then take over.  It didn't work out the way he planned..
For those wondering, Calderon took a shotgun blast to the chest in his mansion in the Bahamas ..A fitting end
Glad your back Shy, I was getting bored…