The Cammy Awards is holding a three-day event this week and on Tuesday Ashley Sinclair was named Crossover Performer of the Year.
Ashley is also one of the official awards presenters for the show and scheduled a Q&A session and a featured cam show. The latter starts off free and then turns into an event where she gets really naughty for tips.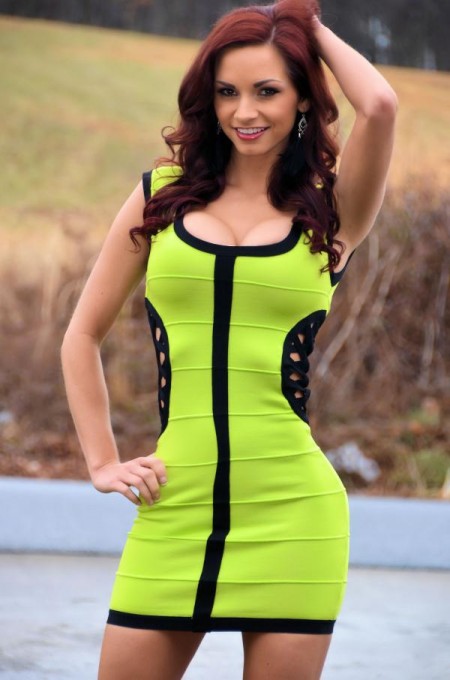 In the past few months she stepped up her work in Porn Valley and turned in several amazing scenes. She had only dabbled a few years earlier and she was immediately welcomed by an industry ready to work with her.
"I take great pride in my cam shows, so I'm really proud to have won this award," Ashley said. "There was a lot of really solid competition and it's a real honor."
Fleshbot just posted a new feature on Ashley, a fantastic, 20-question interview that will go along way in helping fans get to know her. Of course, it's not the only way; she's very active on Twitter and Skype and making custom videos.
"I love interacting with my fans on Twitter. It's a big part of my day – I'm constantly posting what's happening in my personal life and what kinky scenes I have been working on," she told Fleshbot. "I really believe I'm successful because of the time I spend getting to know my fans. I do Skype shows almost every night with my favorites and I've gotten to know a lot of really cool people that way."
Read the feature at http://straight.fleshbot.com/6006522/twenty-questions-with-porno-beauty-ashley-sinclair.
Ashley just released another episode in her ongoing Soccer Mom feature, which plays on the fantasy so many men (and not a few women!) share. Check it out at www.ClubSinful.com.
For Cammy Awards times and info go to www.cammyawards.com or follow the @AdultModelNews twitter and Ashley's Twitter @AshleySinclair0.
Listen to Ashley's Man Cave Podcast appearance at http://themancavepodcast.com/ashley-sinclair-ryan-drake-podcast-man-cave/.
Ashley is one of the hottest webcammers in the country and possibly the most prolific fulfiller of personalized videos in the country. Check out her cam show on http://iamashleysinclair.com, an amazing Ashley site that also includes a ton of hot videos.
Catch her cam shows (9 pm to 3 am ET nightly) and contact her for private shows via Skype and to fulfill fantasies with personalized videos (go to www.bookashley.com). She's also available on Verified Call (https://verifiedcall.com/profiles/AshleySinclair) for fans who want to chat with her. She is also available to shoot custom videos. For a free preview of what that can look like go to www.ClubSinful.com. Her adult toy store can be found at www.ashleysadultstore.com.
Ashley produces custom fetish content where the fan is the director. Contact AshleySinclairProductions@gmail.com for information.
Check out her websites, www.ashleyandfriends.com and http://clubsinful.com.
For bookings contact East Coast Talent: http://eastcoasttalents.com.
For everything Ashley go to http://risingstarpr.com/news/?page_id=7451. For up-to-the-second updates, follow Ashley on Twitter (@AshleySinclair0).