Written By: Transsexual Performer Brittany St Jordan
In regards to: The demeaning attitude and lack of concern for the transsexual genre of the adult industry from AVN.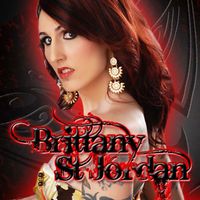 This message has nothing to do with me winning or losing at AVN this year. Yes, it was great being nominated for Transsexual (TS) Performer of the Year but I knew there were other girls more deserving of the award. For this reason I was not expecting to walk away with an award this year. The driving force behind the writing, sending, and posting of this message is a compilation of various occurrences over the 2012 AVN award season. I personally try to refrain from interjecting myself into the post-award discussions of what was right and/or wrong with the current year's outcomes. However, since I was a nominee this year I had a much more vested interest in the AVN awards for the TS categories and feel that a few things need to be said.
From the moment the nominations for the TS categories came out there was a large portion of people wondering how Madison Montag was nominated. She is known in the TS world as being difficult to work with, unappealing and not well received by fans. For these very reasons she has had very little work this past year and was rumored that she announced she was retiring from adult entertainment after only being around for a little over a year. What about Sarina Valentina, Foxxy, Liberty Harkness, or any other girl who is actually embraced and recognized as top talent in the TS genre? Why were these girls overlooked by AVN for someone that is an outcast from the industry which she publicly and vehemently put down on a regular basis in an attempt to improve her own non-existent public image? ( Madison Montag on Sister Dick Radio)
The 2012 TS Performer of the Year was once again Baily Jay, who was the winner of the 2011 AVN as well. What bothers me about this decision is the fact that since winning last year all Baily has done is gone silent online with almost no promotion or public interaction and only posts POV scenes of her and her boyfriend performing together. Fans on TS forums and various web sites who used to love Baily have been quite vocal this year about how bad her content is and that she is no longer the star she once was. There were plenty of girls on the list of nominees who had produced enough quality work this year that Baily should not have even been nominated again. A sympathy nomination for simply being a previous winner does little to add credit to the work other TS girls have done that clearly outshine Baily Jay and her POV only site.
Throughout the AVN Expo Miss Montag was often seen with people said to be associated with AEBN, who also happened to be one of the largest marketing contributors to the AVN events this year. So it is no surprise that when you visit the AEBN Shemale VOD site there is a banner and background with Madison, who I remind you is despised by almost everyone in the TS genre, boldly displayed for all to see. There is also another TS performer sharing the the banner and background space there with Madison. That would coincidentally be your 2012 AVN TS Performer of the Year Baily Jay. Am I implying that both Madison Montag's nomination and Baily's win were somehow influenced by the marketing power AEBN? Yes, I most certainly am. I do not have concrete proof like emails or text messages but when you see the theses two TS girls, who's legitimacy in the awards is beyond questionable, proudly displayed on a major monetary contributor's web site it does raise a lot of suspicion. Was it swaying the judges, tampering with votes or just outright wholesale purchase for both girls in order to increase traffic and revenue to AEBN? We most likely won't ever know.
With decisions like this being made it is really disheartening for the TS girls who work hard and put out quality content for various companies year after year to even feel that they have a fair chance of being selected as the top performer of the TS genre. Where is the incentive to be the best when the final decision is either based on business politics or poor ethics that do nothing to further the TS genre but only increase the flow of money to certain people who are more than likely absolutely clueless when it comes to anything dealing with the TS side of adult entertainment? Hopefully in future years there will be more oversight and quality control over the TS categories and not simply used as a bartering system for monetary gain. Maybe the system needs an audit of it's current ethics and practices so that these types of poor decisions won't be made again.
On to the next bullet point, TS performers being treated like second-class citizens in the world of adult entertainment. I often heard stories from people about how the adult world looks down on TS girls but I have met so many great people on all sides of the industry and didn't ever see it happen. That is until I was on the red carpet for this year's AVN award ceremony. Upon arriving there was a line of people waiting for their turn on the red carpet. It was a mix of fans and industry people from all sides. Then some of the bigger studios started showing up and were being taken right to the front of the line. This, in itself did not bother me. When someone behind me questioned the AVN employee ushering them in as to why they were going before everyone the response was "Nominees and presenters are getting to go to the front." Upon hearing his answer I politely notified him that myself and Jesse, who was with me, were both nominees for TS Performer of the Year. His response was, "Just wait your turn and you will get in there." So, both of us "nominees" waited with everyone else for three hours instead of getting the same courtesies extended to nominees who weren't TS performers.
Let me provide a brief history of AVN and their treatment of TS performers. For many years AVN did not even have a TS section of categories to vote on. That was until Joanna Jet got fed up with being ignored by an industry she was proudly a part of and felt that she, and the TS genre as a whole, deserved recognition from the top company presenting awards to adult performers for their accomplishments. Joanna's willingness to not take no for an answer led to AVN to finally including the TS genre amongst its awards and the main reason they are there today. This was a major step forward for the TS genre as a whole and major personal victory for Joanna, who is still known as one of the best and most influential TS stars in the adult industry.
This triumph has dwindled in current times however. Yes, there are TS categories to be voted on but there is one major flaw in the way the awards are presented. Any of the winners of any TS category are not given their awards at the actual AVN ceremony. Instead, what happens, is at the end of evening the names are listed on a screen for people to view as they are leaving and the award is then shipped to the winner. Yes, that is correct, AVN considers TS performers, producers, and distributors to be fetish related and therefore not included in the actual ceremony with the rest of their counterparts amongst the adult industry. So according to this line of thought, anyone regarded as TS related in the adult industry are not considered to be on par with everyone else. As long as this is the policy no TS performer or producer will ever be given given the same recognition as everyone else for doing the same, and sometimes more, work than their counterparts in the other genres of adult entertainment.
When it comes to working, TS talent have to perform on the same levels as the guys and girls who are in other areas of adult entertainment and sometimes are required to play both roles at the same time. Meaning that they have to be the pretty girl but also retain an erection and produce a popshot. Producers of TS content also put in the same level of professionalism into shooting, editing and distributing the content as they do straight and gay releases. So if the TS talent and producers are working just as hard on their content as everyone else what will it take for them to get the same level of recognition?
This is 2012 not 1985 and TS adult entertainment should no longer be the taboo bottom of the bucket industry sideshow that AVN makes them out to be. Any TS performer should feel that they have a shot at being recognized for their efforts just as any other talent at the AVN ceremony. Producers of TS entertainment and non-TS talent should not feel like they will be looked down on for working outside the box and creating great pieces of work with talented individuals. AVN really needs to reevaluate the way they view and present TS performers and producers to the word at large and be true industry professionals in regards to the way the TS categories are treated from here on out. If the people who are picking nominees and judging the TS categories are clueless about TS entertainment they should be replaced by people who can give a better informed decision based upon first-hand knowledge and not press releases or paychecks.
If you feel that TS performers and producers of TS content deserve the same level of respect as everyone else at the AVN awards then please contact Mr Mark Kernes (mark.kernes@avn.com) at AVN and let him know your thoughts and feelings. Please forward, repost, tweet and any other method of communication you can think of to spread this message so that we can spread the word about the AVN and their lack of respect for the TS genre of the adult industry.