Facing multiple charges including domestic violence, vandalism and DUI, adult performer Clover was offered a deal Tuesday morning, at a hearing in Div. 119 of the Los Angeles Superior Court in Van Nuys.
At today's hearing, which related to his charge of Spousal Battery during an incident in May of this year, the City Attorney offered Clover a 180-day jail term followed by 3 different probations upon his release.
Clover, was not present in court today, but was represented by his defense attorney, Michael A. Goldstein. According to social media posts, Clover was shooting today for Brazzers.
The defendant is due back in court November 17, at which time he can accept the plea deal and be immediately sentenced, or reject it and proceed to trial.
The victim survivor in this case, Clover's ex girlfriend Jenn Marie Jaen, met with the City Attorney this morning, and assembled a detailed statement for use in her ex's prosecution.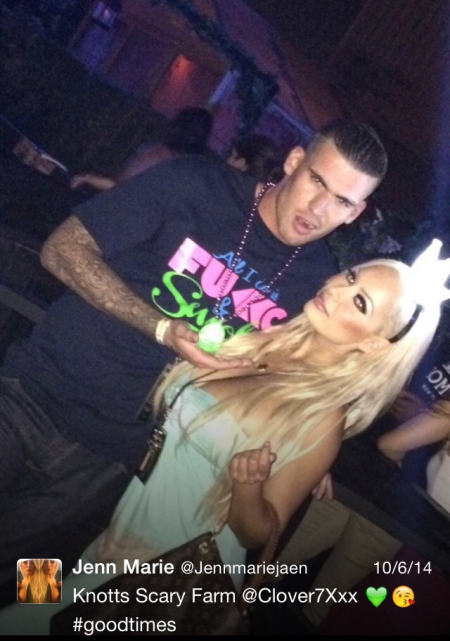 Jaen has stated that she did not cooperate with previous attempts to prosecute Clover out of fear for her life, or because he prevented her from attending proceedings.
According to Jaen, "we actually had to both go to court … on Monday, October 6. He beat me up that morning so I couldn't go to court. He went, I did not. After that I reached my breaking point."
Decision time
If Clover refuses this plea bargain, he will proceed to trial, where, TRPWL has learned, his chances are not great.
If Clover accepts the deal, upon his release, if he so much as jaywalks he will be arrested and serve an automatic 2 1/2 year prison sentence.
Due to jail overcrowding, Clover will likely not spend more than 30 to 45 days in custody if he accepts the plea deal for this case.
Jaen recalls that on May 17, 2014, she came home to find Clover and his friend drinking and partying. She was tired, so she said good night. Clover then followed her into her room and begged her "to come out and drink with him."
She told him no, she says, and "then he flipped out. Called me bitch, cunt, whore… Dragged me out of bed… I screamed for his friend to help me, and he ran over and told him to leave me alone. Then Clover turned to him and said to mind his own business or he would kill him. So his friend walked away and didn't do anything more to try and save me."
"I was able to get loose for a quick minute… grabbed my phone and called 911. Then they answered and I screamed for them to send police [because] my boyfriend was beating me. Clover freaked out and grabbed all his drugs and ran out of my place with his friend because police were on their way."
"He ran out the door, and when I thought they were gone he ran back in and popped me in my face, then ran back out the door."
"He almost broke my nose," Jaen remembers. "The cops arrived maybe 5 minutes later and I was covered in blood. My hands were all bloody from trying to wipe my nose. The cops drew guns at me when they got there – they probably didn't know what to think [because] there was so much blood."
Clover is currently subject to a restraining order which prohibits him from contacting Jaen, although she has provided evidence to TRPWL that he has been sending requests to follow her private twitter account.
Watch TRPWL for updates…