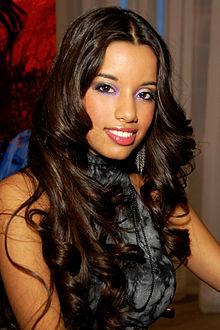 Colombian porn star Lupe Fuentes could be deported from the U.S. and sent back to her home country where she is wanted for questioning over her alleged recruiting of minors for porn flicks, Howard100 News reported Monday.
The porn star, whose real name is Zuleidy Piedrahita, was arrested by U.S. immigration officials in April, a month after Interpol issued a blue notice alerting law enforcement around the world that Colombian authorities wanted her for questioning.
Fuentes is wanted over allegations she recruited teenage girls to star in porn films made in Medellin.
Howard100, the news service linked to American radio star Howard Stern who had Fuentes on as a studio guest, announced they had obtained an Interpol blue notice calling for Fuentes' arrest.
The notice, issued by Colombia authorities in March, states Fuentes, "is liable to commit sexual offences involving minors and liable to use pictures of minors for pornographic purposes for her own gain."
Howard100 revealed that Fuentes was arrested a month later by American Immigration and Customs Enforcement (ICE) for immigration violations.
According to ICE, Fuentes was placed in removal proceedings and released under supervision while awaiting a decision from an immigration judge on whether to deport her. This case is still pending.
Pablo Lapiedra, Fuente's ex-husband is currently facing extradition from Spain, after a Spanish court ruled he should stand trial in Colombia.
Fuentes has become a popular star in American porn since splitting with Lapiedra and moving to the U.S. However, she has dropped from the public view since the scandal broke and has not been active on her twitter account since March.
http://colombiareports.com/colombia-news/news/19901-colombian-porn-star-lupe-fuentes-faces-deportation.html