The Internet's seen a rash of articles about how porn is killing sex lives. Whether it's studies of dubious scientific legitimacy saying that it kills sex drives or anecdotal evidence that women hate porn tricks men try in bed, the Internet — in particular men's websites — is abuzz with theories that porn is bad for sex. Unpredictably, we respectfully disagree.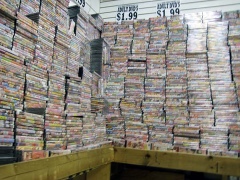 There are a few problems underlying the idea that porn is killing real sex. First, the idea that "women" (or "men" for that matter) taken as a whole "like" or "dislike" things is fundamentally flawed. Even bona fide scientific studies finding that women prefer this or that only refer to women in the broadest possible sense. It says nothing about whether or not an individual woman likes or dislikes something. Further, the studies generally assume that men are the only ones who like porn and that they're watching it alone. Finally, there's the archaic idea that sex is something women do as a favor to men in exchange for jewelry. Women are certainly horrified by money shots and hair pulling.
Right. Sure they are.
In fact, demographic trends indicate that more and more women are interested in porn. Part of this is loosening of cultural taboos and part of it is an active campaign by the industry to attract more women. And, of course, part of it is due to the fabulous popularity of Mr. James Deen. Women are watching porn alone and couples are watching porn together. Is anyone seriously going to say that consenting adult couples who watch porn together are somehow having their sex life corrupted?
Mr. Deen is an interesting cultural figure laying bare many of the myths about female sexuality and porn. He's indisputably the first porn star to really cross over among women, and it's not because he lays down a bunch of rose petals on the bed before he goes to town. If there's a secret to his success other than his movie star good looks, it's that he seamlessly transitions between some of the roughest and sweetest sex ever captured on camera. The sexual proclivities of men are as varied and diverse as those of men. For every women who wants a guy to cum on her tits, there are probably three who don't. But one doesn't make the other any less real.
Porn isn't without its problems. Pornography addiction is a real thing and if you'd rather beat off than get busy with your partner, you've got a problem and need to figure out if it's you or the relationship. It makes for horrible sex education for kids, despite the fact that it's often the only sex education many of them get. The industry itself has yet to adequately address the elephant in the room: sexually transmitted infections as occupational hazard. We certainly hope that the industry and society at large take the time to address these problems in the serious manner they require.
But one needn't invent problems with pornography based on tired old concepts of female sexuality and junk science. This is little more than archaic sexual morality dressed up in the language of self-help, pop psychology and "progressivism." The next time you see an anti-porn article put in reasonable terms on a website that doesn't have banner ads for "pray the gay away" camps, you should think even more critically about it. As always, the most insidious lies are wrapped up in a bit of truth.
Source