This past weekend I was blessed to witness some of the greatest social media moments of 2021.  Including but not limited to, fan art, fanboys begin trolled by fake fanboys, a no name drug addict thinking she should get paid for interviews, and a girl who alleges she has top secret clearance. The latter will be covered today.
So Saturday I'm minding my own business, when I get this text from someone who shall remain nameless. His name rhymes with Rosco. No it's not the Nazi troll Julika, but someone who's so legendary people name their dogs after him…
Once I sifted thru his penis pics, I found this: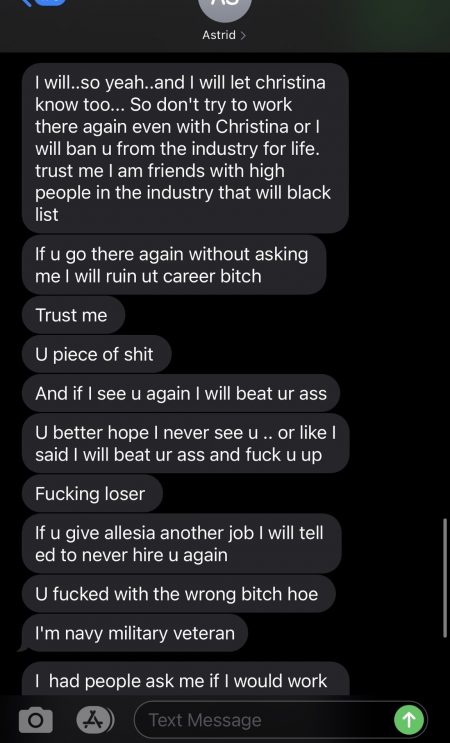 These were posted by Tana Waters, communications between her and Col Major Astrid Star. Apparently, Capt Corporal Star can have people banned from porn, for life. That's pretty impressive for a James Bartholet client with 59 scene credits in 4 years. Drugs are bad.
Had this been her only transgression, I probably would of just ignored it. This is porn, it's full of people who THINK they matter.
But then Astrid "Rambo" Star kept going:
She may very well be ex-navy, she's claiming to be in the navy currently, which would frown on her doing porn.
The one that really pissed me off,  was her saying she is a 9/11 Veteran.
She was born in 1989, which mean she was 12 when Terrorists flew planes into the Twin Towers and attacked the Pentagon.
In one tweet she claims to have been in the Navy from 2008-2018 (10 years), then a couple words later claims she still works for the navy, then claims to be a 9/11 vet, with 8 years service.
She's obviously lying,  but maybe she's so drugged up she really can't remember what she says.
She's a disgusting liar trying to use 9/11 for sympathy, anyone with a calculator could see she's a fucking piece of shit liar.