PHILADELPHIA likes to tout itself as among the nation's gay-friendliest places.
And in fact, Philly this year aced a "municipal-equality index" compiled by the LGBT-advocacy group Human Rights Campaign on almost 300 cities nationwide, a study that examined everything from hate-crime statistics to employee benefits for same-sex couples to the number of openly gay municipal leaders.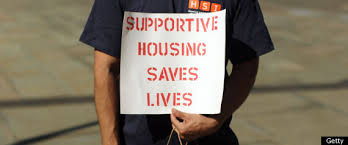 Come next month, Philly will mark another LGBT milestone when the John C. Anderson Apartments open on 13th Street between Spruce and Locust. The building will be the nation's first LGBT-friendly housing for low-income seniors, activist Mark Segal said.
"Gay people, like other people, deserve to live with dignity and love in their community as they grow old," said Segal, the Philadelphia Gay News publisher, who spearheaded the project. "If [the LGBT community] is any type of community at all, we should be a community that takes care of its most vulnerable people – our seniors, especially those with financial issues."
Segal added: "These LGBT seniors are our pioneers. We have our rights today because of them."
Construction of the 56-unit, six-story structure, on the site of an old Philadelphia Redevelopment Authority maintenance garage and parking lot, is planned to wrap up this month. Residents are expected to move in next month.
It will include a 5,000-square-foot private courtyard, ground-floor retail space and a community room where groups like the William Way LGBT Community Center, the Mazzoni Center and ActionAIDS can help residents with health and legal issues and other social services.
The $19.5 million project was funded by state and city support, tax credits and the Dr. Magnus Hirschfeld Fund, which supports the LGBT community. Pennrose Properties, an affordable-housing developer, is a partner.
The apartments, named for the late city councilman who championed gay rights, create a place for the LGBT community to gather, just as an African-American, Jewish or Catholic center would, Segal added.
And judging from some applicants' experiences, the apartments are sorely needed, he said.
"One man reported that he's had [neighbors and housing employees] try to 'pray the gay out of him.' Another man said he has been physically abused by a worker who knows he's gay," Segal said.
The Public Health Management Corp. last spring reported that 48 percent of local LGBT seniors had trouble affording their housing and that 13 percent were living in unstable situations, such as a shelter or a rented room, house or apartment where their name was not on the deed or lease.
The National Gay and Lesbian Task Force estimates there are more than 1.5 million LGBT seniors nationwide, a population projected to double by 2030.
The new apartments are almost fully booked, property manager Kecia Hilliard said. They're also open to heterosexual seniors in need of affordable housing, she added.
"You don't have to be gay, but you've got to love us," Hilliard said. "I can't have anybody feeling uncomfortable ever. The last thing I need is for my seniors to feel not safe or bullied."
Source