The John Forbush-Shy Love connection..
John, owner of Metro Talent, and Shy, Owner of The VIP Connect, have a connection dating back several years.  John went to work for, and became Shy's webmaster after the LAX model house closed down, his GF at the time, was and still is Shy's office manager. When John started Metro, he and Shy shared the license of LAX.
Last year, shortly after the last Exxxotica, Shy started beefing with several people, one of those was a guy named Dave. Simultaneous to that, John Forbush, along with the help of another man, began to try and extort Dave.  At this point, these are separate battles, but when John and his partner realized they weren't gonna be able to get any money out of Dave, they turned their sights on Shy..

John, already had intimate knowledge of Shy and The VIP Connect. John set up the site, in fact he's the one that sold the domain to Shy in the first place. It wasn't long before him and his partner began harassing Shy.  Soon thereafter, Shy contacted the LAPD and told me she filed an extortion case, even going as far as to send me the business card with the case number.
John sees the writing on the wall, sells out his partner to Shy, and thus began their combined effort to harass and try to disrupt the lives of Dave, and everyone connected to him, including his kid…
Shy and John Launch A Blog
A couple weeks back, a blog appeared under Dave's legal name.  From the start, I was certain that Forbush had his hand in it. It wasn't until a picture showed up of Dave's child that I started thinking he had help.  The picture in question was a picture that Dave texted to Shy Love at a birthday party. No one else had that pic, just Shy.
Next thing that caught my eye was, pictures of Indigo Augustine, who claimed she was raped by a production company owner. A story that we broke here at TRPWL, only to find out that the girl was not credible. After talking to several people at the party, it was determined the girl was in fact not telling the truth. Not wanting to be a Mike South, I pulled the story and admitted the mistake.
In the process of writing that story, we ran some pictures she had submitted to us, at that time, they were the only public pics available on the web. We only ran 2 of the four pics we were sent, low and behold, all 4 pictures showed up on the new Dave blog. Guess who had all 4 pictures? Shy Love. At the time of allegations, Shy was Indigo's agent..
According to the Dave site, Indigo provided the pictures, that's partially true, She gave them to Shy last year..From the same story on the Dave blog:
When she tried to speak out and put up articled regarding the situation within a few hours Dave from TLC had them all removed and had the articles come out tarnishing the model.
I was the only blog to write that story, when I removed it, I emailed Shy letting her I had pulled it.  It would come out later, last week actually, that Shy was convinced Dave asked me to remove the article. She told me as much on a phone call. I told Shy my first interaction with Dave came in Aug 2015.
This was 2 months after the rape allegation. If Dave did in fact know me, he wouldn't have had to reach out to a 3rd party to get a hold of me. After I pulled the rape story, Indigo began telling the world that I took money from the person who allegedly raped her, basing this on some PR that ran on my site. Not once did she blame Dave. Nope, the only person who blamed Dave, was Shy Love.
Presently, Indigo and Shy don't get along. There have been threats of lawsuits and myriad of other legal claims. But that's a story for another day.
So up till now, I'm still on the fence about the blog, I can see Shy's fingerprints on it but I'm not convinced.
It wasn't until this post went up:
The blog outed the legal names of girls alleged to be working as escorts. A couple things stand out on this list.. The most glaring is there are no VIP girls on this list. Even though there are several girls on Shy's roster that allegedly escort thru TLC..
A few of these girls aren't in PASS at all, one is so new the only place she shows up in is TTS.
Shy got some this info from TTS, at the present time, due to legal reasons , I can't divulge how we know, but it will all come out. I can tell you for a fact, Shy Love has shared her TTS log in with at least 7 people..
So now I'm pretty much convinced that Shy is behind or helping with the website. I racked my brain trying to come up with way for Shy to implicate herself. Finally, I decided to email a tip to the Dave site. I did this for two reasons, one, if they printed it, it would show they basically are Mike South and will run anything:
And 2, if they redacted the name, Diamond Kitty, from the email IMO it would pretty much seal it for me that Shy was behind it. For those that don't know, Shy refers to Diamond as her sister, they've been close for almost 10 years.  I guess, there is a small chance the blog somehow found religion between the time they outed girls real names and the post with the redacting stage name..
Just so there's no doubt it was me:
So now, I need to get someone to turn on Shy. My best chance at that is broke Steve Fedori errr John Forbush..
So I text him at Metro, "$1000 for info"..
After that text, he had some guy call me back, I told the dude to tell John to call me if he wanted the money.. Worst case, John reaches out to Shy and lets her know, best case, we find out who's paying the bills on the Dave site.
Several min later, I get a call from John.  I explain to John that I don't care about him anymore, I want Shy for outing the girls. I tell him if he can give me a text, or an email, something that points 100% to Shy ill give him $1000.  Like any decent criminal trying to lessen his culpability, he starts telling me how "that person" asked him to create the exact same site, using the same hosting, same layouts, same plugins, everything. A site he described as almost hack proof. But, before he knew it, "that person" hired someone else to do it and he was pissed off at "her"
I tell him get me the proof and I'll give him the cash..Soon after we hung up I get this text from him: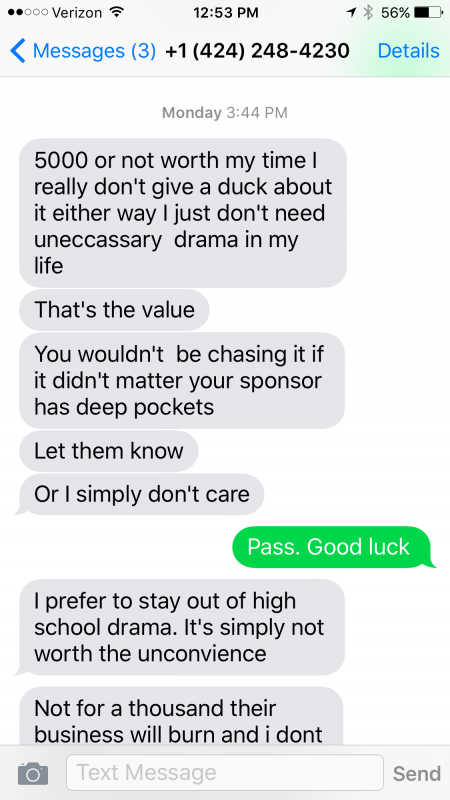 After I passed, Shy texts me:
Shy and South still talk about me and Donny, Sean and Donny. Shy even went as far as to say a "blogger" had a phone recording of me, Donny and Dave talking about Shy. LOL  I say, put it up. Stop talking about it. Put up the tape of me, Donny, and Dave talking and I'll shut down all my sites.
So Shy throws Kelli under the bus and blames her.
But while I'm texting Shy, I text Forbush:
John decided only after he couldn't get $5G's that he no longer wanted to help..
LOL  Yeah, of course I let Shy keep denying:
Then I tell her John just told me he told her;
Hold up homie, You're not battling Dave, you don't give two fucks about him, he's irrelevant to you???  If that's true, why did you send porn mope Mike Mancini to the courthouse yesterday?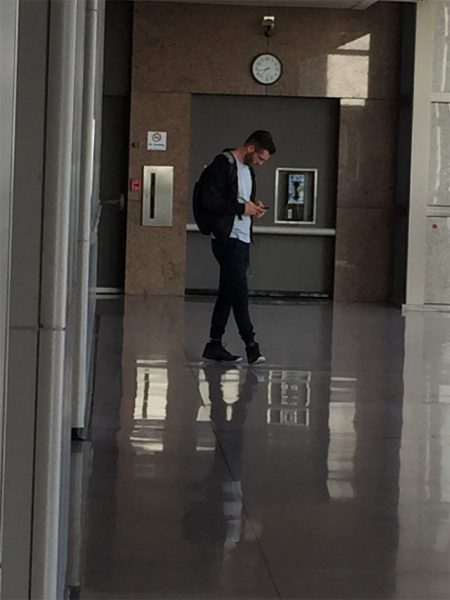 How'd that work out for you by the way??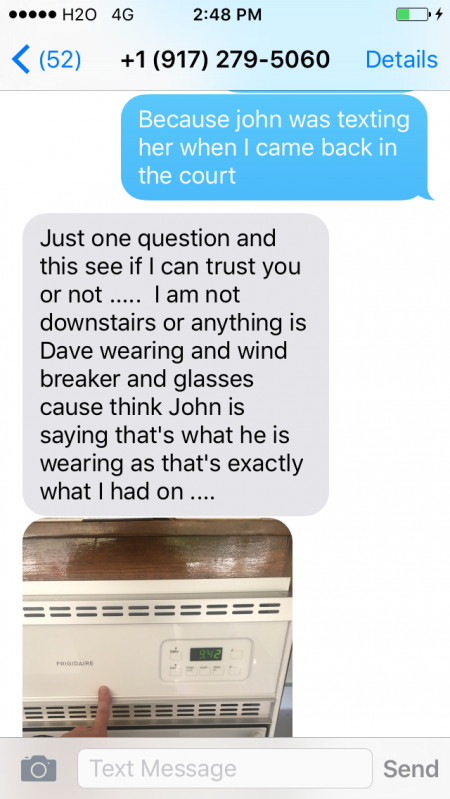 So let me get this straight Shy, you don't talk to John Forbush, but here is Mike saying Johns texting you from the court with clothes updates?
Looks like your bitch boy ran back to the office before anything even happened in court. Recognize that microwave  ?
Ahhh, looks like he's saying you sent him…
I had no choice but to gloat:
What?  You knew your guy was gonna run out the courthouse like a girl?
I'm sorry? Did you just threaten to give Mike South a story?  And HOW did that work out? HAHA you lied to him and he printed it, then had to back peddle..
I really like this tweet:

That's called over playing the situation.
If anyone knows who put up the top secret Dave site let me know. HAHA.  You did Shy.