Over the past year, TRPWL has steadily reported on internet bully, dangerous amateur producer, defamer, stripper beater, liar, homophobe, hypocrite, misogynist, coward, Shelley Lubben endorser, Patrick Stone promoter, escort outer and shamer, suspected embezzler, failed talent agent, and all-around asshat Michael Strother aka Mike South.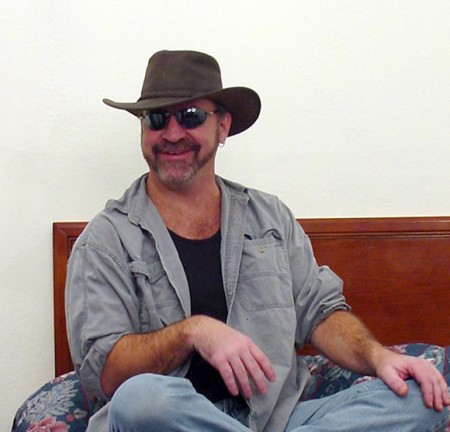 In addition to being an unwavering shill for AHF in its campaign against the adult business, his eponymous gossip site has become a platform for a host of porn rejects: from adult biz washouts like Monica Foster and Nick East, to mentally ill stalkers such as Rick Madrid, to Tim Tritch, the man who sold out the AIM Healthcare Clinic to AHF.
It should come as no surprise that South, who flunked out of porn valley in 1997 (fired from Elegant Angel before his debut movie for a major company was released), would have such affinity for adult business rejects and harbor deep bitterness for those who succeeded where he failed. But South, by bullying his way into the conversation over the past decade and a half, has recast himself as porn's paladin against threats great and small. His snake oil salesman routine is slick enough that many have forgotten to ask, 'what in the world are this guy's credentials.'
As Michael Whiteacre pointed out to Gawker's Adrian Chen, "Here's an old man who lives at home in Georgia, whose claim to fame is winning a best amateur porn video AVN award in 1997, who's pretending to be an expert in porn. If you want to know how to shoot a blowbang in the sticks in a shack in Georgia, Mike South is your guy. In terms of insight into an industry where everyone despises him or doesn't know who he is, it's ludicrous."
Sure, South's power is illusory; to borrow a phrase from a Salon profile of Ed Champion, it is "a mirage he concocted of smoke, mirrors, boasting and bullying that worked best on vulnerable newcomers." But South is something much worse than a liar, fool or oaf; South's agenda is to discredit every adult industry institution, including the testing regime for performers that has prevented on-set HIV transmissions for over a decade.
If for no other reason, it is this agenda that makes South the most dangerous man in porn (if by "in porn" we include men who cruise for Atlanta streetwalkers and solicit "hobbyists" on escort boards to appear in his hotel room bukkake videos, and use a video camera on a tripod as a means to get laid under the guise of amateur porn production).
In September 2013, Christian Mann, a legend in the adult world and a beloved, decent man, wrote South to set him straight on the many issues he gets wrong.
"Up until this moment, I have made it a policy to not respond or react to your blog postings because they are so frequently filled with rhetoric that is laced with personal attacks rather than constructive criticism," Mann began.
It's clear that your anti-FSC bias is so powerful that you look for every opportunity to find fault, even in those cases when it requires a stretch of logic that is comical. Additionally, you frequently post opinions and accusations as if they were factual in a manner that blurs the line between opinion-based editorial and fact based reporting. Since you've "called me out", but never actually called or e-mailed me to corroborate or rebut the many articles you post about me or my work at FSC, I simply concluded that facts must take a back seat to your agenda. As such, it never made sense to engage or acknowledge, even when I know that so many of your assertions have been 100% wrong.

I'm breaking with tradition today because I'm concerned that you're giving talent some dangerous advice regarding testing. I hope you will put aside your feelings about the Free Speech Coalition and Diane Duke just long enough to consider some of the facts that I'm stating…
After correcting the gossip blogger on a litany of issues, Mann closed with this:
Mr. South, you and I can agree to disagree on a number of issues. If you were to put aside the politics of personal attacks and were willing to reach out and check a fact in the interest of getting to the truth, regardless of how it changes the story, I would champion your efforts. Until such time, my only request is that if you post this letter, you post it in its entirety.
Naturally, Mike South refused to run Mann's letter on his site. Now, usually, South loves to post the other view so he can lambast it. He refused to publish Mann's letter simply because he had no good rebuttal for many of the points, and his massive ego can't handle criticism.
Today, South is nothing short of a pariah and laughingstock in adult business circles. Whiteacre rightly notes that "South's name is the punchline to jokes that people in the adult industry tel each other at urinals." All one need do is visit adult forums such as GFY to see what adult business professionals actually think of him.
Or, simply check Twitter
As director and author Ernest Greene once commented on this site, in regards to South, "If nothing else good ever comes out of the current misery of life in porn it will be the fading away of this particularly vile pustule that's attached itself to our business. I'm happy to say I loathed him before it was popular and it gives me some satisfaction to find myself in so much good company these days."
In fact, so much information has come to light about this despicable individual in recent months (mainly through the work done here at TRPWL), that it's easy to forget there was once a time that people were actually afraid of him.
In the old days, one of the few men who had the guts to stand up to this narcissistic blowhard was XCritic's Don Houston.
In 2007, Houston posted the following jeremiad on XPT, under the title "Mike South A Danger To The Porn Industry".  It does an excellent job of laying out the foulness and corruption that lies at South's core, and which has from the beginning:
Okay, in the recent discussion about John Bone's exploits with the authorities in Thailand held in the no-holds-barred Monkey Cage, a major offshoot of the topic concerned some of the practices by Mike South that have shown the side of his personality that people don't like to talk about. As a member of the forum, Mike has been given the chance to deny allegations and as always, he has crawled back under his rock, hurling nonsensical insults from his bully pulpit website in an attempt to muddy the waters. The following appears to be factual information regarding his temper tantrums and behavior that strikes me as being pretty low even by porn standards, some of it looking more dangerous to those in the industry than anything coming out of Washington DC. Here's a few of the questions and claims that Mike has run away from in a thread dedicated to the guy rather than buried under a thread that isn't related:

1) Did you or did you not used to steal Den's reviews without his permission and without crediting him as the original writer, posting them as your own on your website, and sell the screeners you received? On a related note, for all his claims of "telling it like it is", Mike showed a willingness to remove reviews unfavorable to some in porn after railing how bad a title was; limiting his credibility to those who might have relied on them. Can anyone trust his reviews if he uses them to curry favor, assuming of course that he doesn't still simply steal them from others in the first place as he was said to do in the past?

2) Did you not brag about all the good you did in publicizing the Atomic Punk affair, ultimately exposing the personal information of hundreds of performers (including SS#'s) to scores of people publicly rather than handle it quietly in the then-dead thread on a relatively obscure forum? You were blathering on and on about how you deserved the Sturman Award for your efforts, even though your publicity helped spread the information like wildfire to stalkers everywhere…

3) Did you or did you not complain repeatedly about X-Fanz not putting a "star" next to your name, eventually pissing all over the place because they didn't recognize your self-deluded greatness and then follow up by not removing your name from the posts you had already made ("Do I need to start flaming people to get this account deleted?")? Right after that, you started claiming the company owner was pushing the .XXX matter down everyone's throats, suggesting this based on nothing of substance (ie: that evidence you never seemed to mind having prior to Bone's dilemma). If that wasn't a case of revenge…

4) As far as the Jessica [Drake] matter; were you or were you not the one that "didn't have the time" to debate the matter when the issue was raised that under current 2257 law, there really isn't a means by which companies can amend their records? By "outing" her, didn't you endanger her, every company she had worked for, and all those associating with her to federal scrutiny; said scrutiny amazingly finding its way to Wicked Pictures soon after you went on your half baked crusade? Keeping in mind her stable employment as a contract performer for years, posing no additional "threat" to anyone even if your original guesses were correct, why the need to draw attention to possible violations? (From published accounts, Wicked passed the record keeping investigation by the FBI though, also in contradiction to your initial claims that they did not have her information correct on file, IIRC.) I still thought it was amusing that after the company finally replied to you, you shut up about the whole matter like a spent bitch…

5) Do you or do you not think it's fair play to insinuate other directors are engaged in filming kiddie porn in a thinly disguised effort to attack them as in your tirade against director John Bone? Bone has been tentatively accused by Thai authorities of owning/operating a website with links to porn sites. Mike, providing no evidence to the contrary whatsoever, thought it was okay to further advance the possibility even going so far as to say things like: "Rumors have been rampant that T Bone is shooting underage performers. If you have any of his product on your shelves you might consider your options here, there is no scam that John Bone wouldn't pull." and "I have had some pretty good indications that he is shooting underage performers, I have more that I have yet to go through but as of now he is only being accused of it by others, lots of others." Granted, Bone may not be popular but if Mike wasn't just engaging in another round of making up "sources" as some think he does all the time, he'd be listing them or providing something substantial that Bone could address.

6) It's also reported that Mike likes to shit talk the industry to new performers, just so long as he gets to shoot them himself. The general idea that he's better than everyone else in the industry seems to be indicative of his mindset, a mindset that apparently doesn't have an issue with screwing people over to get his way. While that might be okay with some in Porn Valley, others might find it the opposite of the persona he tries to cultivate when he wants something from you (the infamous claims that he was someone important at this year's AEE and better not be made to wait in lines with the riff raff was a classic example of his holier than thou self importance; one that a number of people were laughing at during the show with him in earshot).

7) His contempt for the so-called "fanboys" of porn says it all. Say what you will about those online and standing in lines to meet their industry favorites but those are the people that pay the bills of those in the industry. For someone so unconcerned about all of us nameless consumers, he sure spends a lot of time on various forums or commenting about us (personally, I appreciate his ill-informed, foolish hillbilly comments since they do send traffic reading my reviews on www.dvdtalk.com and elsewhere). I wasn't certain he could show more contempt for the consumer than the crappy porn he shoots but you can't blame the guy for trying his best to look like a fricking jerk to the masses.

In any case, I appreciate that he ran away with his tail between his legs after some of his recent past was brought up in the other thread. It was probably difficult for his repeated pleas for sympathy over his medical problems to deal with how much of a self important, some say delusional, jerk he was portraying when faced with very real questions regarding his behavior towards those in the industry. I don't care much about his poor grammar or often illiterate ramblings as Bone did on his blog any more than I care his justifications for hiring private detectives to investigate his enemies (he'd have fit right in at the witch trials in Salem or in the McCarthy hearings back in the 50's) but I thought it was a good idea that someone mentions it from time to time (the industry has a short attention span). Here's a couple of responses to those that care:

Quote:

---

Has he really done all that shit you talked about…he always seemed like an insider with the scoup…

He told me to my face about stealing the reviews and selling the unseen screeners, I watched him fall apart on the X-Fanz forums over the lack of a "star" by his name (http://xfanz.com), debated the [Jessica] Drake matter via email with him as well as spoke to the other side of the matter, and watched the Atomic Punk matter explode thanks in large part to his exploits. The other stuff is found on the net, often at his own website though he can re-write history there, so check it out for yourself.

Quote:

---

the guy's on medication from his _____, why don't you let up on him?

---

Mike prides himself on having scoops, telling it like it is, and projecting his worldview as though it were the only one. That leaves him open to critical comment and while I appreciate that he recently admitted to sitting on stories or treating some with kid gloves in such a manner that he couldn't look himself in the mirror, his overall tone is one of a child seeking approval; no matter what he openly suggests.

Quote:

---

…he sure told you off, why do you reviewers think you know so much about everything…

---

While I think this might have been from Mike himself, I don't think anyone has claimed to know it all (except maybe Mike himself); especially some of the more prolific reviewers online (several of us laugh at the suggestion though). It's telling though that the stance of "attack the messenger" is the first response from the guy and his handful of supporters. Should a company care if their screeners are being sold in competition with themselves if the guy isn't at least reviewing them? Is it right to steal someone else's reviews at brush it off like a misunderstanding to those who don't pay attention? Should a director be actively engaged in the dissemination of performer's private information or promote those that are? You decide…

Quote:

---

Damn youre an asshole…

---

I might be at times and I don't suggest otherwise. I also don't think I'm above scrutiny or someone particularly important. The review website I write for is one of the most popular around and I appreciate that I've helped steer people to better porn over the years but ultimately none of this has been about me except for Mike dodging valid questions posed of him on a repeated basis. While I don't really expect he'll respond (he's probably smarter than to go into a fight outmatched, much like when [Kurt] Lockwood tossed a drink in his face and he sat back down to steam over it), it's fair to present the facts and allegations in an open forum since that's what he does all the time.
It's easy to see that not much has changed with the one-trick pony from Doraville, Georgia in the years since Don originally posted this.
He's fooling no one but the naive and uninitiated, but as long as there remain people who might take him seriously, Mike South will remain the most dangerous man in porn.