Ashley Sinclair is running a contest this holiday weekend that is going to give fans the opportunity to score some coveted one-on-one time with Ashley.
To enter one need only make a Valentine's Day meme from one of her photos on her Twitter and tag her in it. They'll all go into a drawing to win a free 10-minute Skype show with Ashley.
"I know Valentine's Day is an important holiday for a lot of people and I wanted to do something fun that anyone could be a part of," Ashley said. "I'm really looking forward to seeing what people come up with."
The contest begins on Friday and ends at midnight on Saturday.
She also has a new scene this week on www.ClubSinful.com called "Dildo Pleasure." She probably doesn't need to explain what kinds of things are happening in that one.
Babes.com also has a new scene, "Tender Touch," which stars Ashley and Abigail Mac.
She was also recently crowned Crossover Performer of the Year at the 2015 Cammy Awards.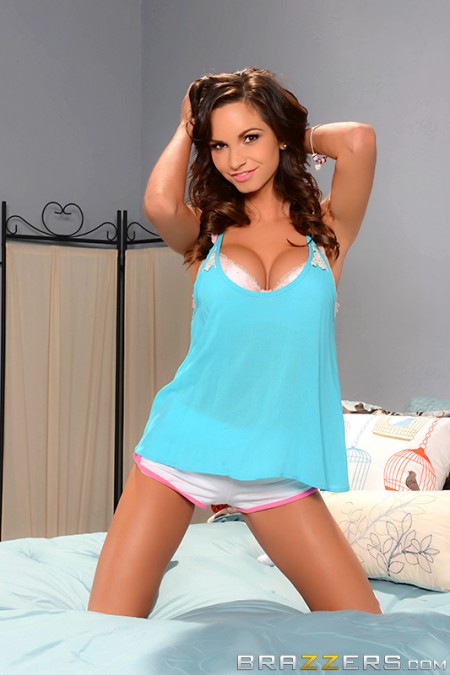 Check out her website at www.iamashleysinclair.com.
Read the recent Fleshbot feature on Ashley at http://straight.fleshbot.com/6006522/twenty-questions-with-porno-beauty-ashley-sinclair.
Check out Ashley's ongoing Soccer Mom feature, which plays on the fantasy so many men (and not a few women!) share. Check it out at www.ClubSinful.com.
For Cammy Awards times and info go to www.cammyawards.com or follow the @AdultModelNews twitter and Ashley's Twitter @AshleySinclair0.
Listen to Ashley's recent Man Cave Podcast appearance at http://themancavepodcast.com/ashley-sinclair-ryan-drake-podcast-man-cave/.
Ashley is one of the hottest webcammers in the country and possibly the most prolific fulfiller of personalized videos in the country. Check out her cam show on http://iamashleysinclair.com, an amazing Ashley site that also includes a ton of hot videos.
Catch her cam shows (9 pm to 3 am ET nightly) and contact her for private shows via Skype and to fulfill fantasies with personalized videos (go to www.bookashley.com). She's also available on Verified Call (https://verifiedcall.com/profiles/AshleySinclair) for fans who want to chat with her. She is also available to shoot custom videos. For a free preview of what that can look like go to www.ClubSinful.com. Her adult toy store can be found at www.ashleysadultstore.com.
Ashley produces custom fetish content where the fan is the director. Contact AshleySinclairProductions@gmail.com for information.
Check out her websites, www.ashleyandfriends.com and http://clubsinful.com.
For bookings contact East Coast Talent: http://eastcoasttalents.com.
For everything Ashley go to http://risingstarpr.com/news/?page_id=7451. For up-to-the-second updates, follow Ashley on Twitter (@AshleySinclair0).