In my head I swore off any more Astrid Star posts. It was a rough go, sort of like switching from Gatorade G2 to Zero. In the end, like a James Bartholet client, I needed my Astrid fix.  She's a cheap drug, you only need an internet connection, and a Twitter account, soon I was higher than her suitcase pimp on welfare check day.
Trust me when I say her timeline is only rivaled by Dakota Skye's. If ever a time comes where Astrid asks for a laptop, then Dakota becomes a distant memory. The ironic thing is Dakota and Astrid used to be best friends, LOL  Now they're neck and neck for the BDUT 2021 award, aka "Best Doped Up Tweeter" award.
Yes I know, you two, you're both sober.
One of the many post worthy tweets from Astrid is this one: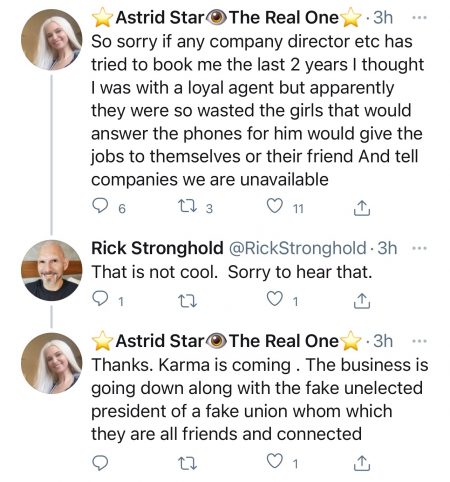 So from what I can gather, companies were beating down Robert's door to book Astrid, but, everyone else answered Robert's phone and said she was unavailable, and/or took the gig themselves.
Gee Astrid, if it wasn't for the 93 other girls answering Roberts phone and taking all your bookings, you'd be AVN's Female Performer of the year, probably even a regular on Keeping Up With The Kardashians.
What's your excuse for rarely working when you were with Shady Sandra over at OC?
Lets examine the career of Astrid Star.
In 4 years, you've got 59 credits on IAFD  lets do some math. 59 /48 months = 1.2 scenes per month. But even that math is off, because a lot of your work is content trade. I mean, James Bartholet only pays his scene partner in 1 of 2 ways, Cocaine, or enough shame to make a Clinton blush.
There's an arc to most low end girls careers, which you are. It goes something like this:
Random work cuz you're fresh off the boat.
That run lasts about 6 months, next come the a few gangbangs, this is just enough work to pay for your drugs and keep your suitcase pimp from beating you, it will also keep your hooking rate above 275 an hour.
Whats next? well, you have a drug habit, so you take any offer that comes along. After this, it's shooting a B/G for 350 bucks for a guy named Y in a dirty motel room, who swears he has a new production company coming.
After that, you go down the content trade route with the James Bartholet's and Billy Boston's of the world, which means less money, and cheaper highs.  Soon you're Cameron Bay, mainlining dumpster dope and spreading the AIDS at popper parties booked off the internet…
Your suitcase pimp, fed up with you talking about top secret clearances and your constant misuse of picture filters, tells you he's running to the store for some cigarettes, only he never comes back…
Soon you're at the local 7-11,  exchanging bodily fluids for 50 bucks and a Slurpee, calling 911 and reporting the clerk as ISIS, hoping to get some reward money. When that doesn't pan out, Johnny Goodluck's motorcycle gang makes you its wench, part of those duties includes asking guys at the gym if they recognize Johnny's flaccid penis? Maybe you can pick up a few extra bucks walking Erika "Shrek" Icon's dog, which she named after my friend, #TheRealBosco.
Next thing you know, you're Sharon Stone at the end of Casino
Astrid, you never had a career in porn, you never will, you're filler, nothing more…